Sports News
March  15, 2011
Congratulations to middle linebacker
Johnny Mago '11
, named as a first team ESPN Academic All-American by the College Sports Information Directors of America. Mago is shown here with Rob Cushman, the Vikings' former defensive coordinator and newly hired head coach. Mago is the 135th Augustana student-athlete to receive this top honor; the college ranks sixth in the nation in the number of Academic All-Americans produced. The leading tackler for the Vikings, Mago is a journalism/theatre arts major with a 3.78 GPA. He won a prize for documentary photography at the annual Augustana Fourth Estate Awards Ceremony in 2009. An active member of Athletes Giving Back, Mago volunteers at a local church, where he teaches the English language to immigrant children.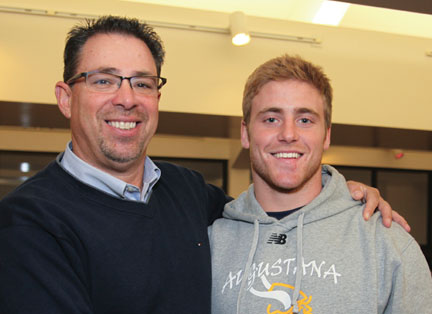 Coach Rob Cushman and Johnny Mago '11
Barnes resigns; Cushman selected as successor
Jim Barnes '81, who compiled a 79-34 overall record in 11 seasons as the head football coach at Augustana, announced his resignation in November. Barnes led the Vikings to three CCIW titles and two NCAA Division III playoff appearances. Only the legendary Bob Reade (146-23-1 from 1979-94) piled up more victories at Augustana than Barnes.

"The challenges and burdens of trying to maintain the Augustana football tradition can take a heavy toll these days," Barnes said. "It is time for me to recharge, find a new passion and a new opportunity to serve."

Barnes coached a total of 20 NCAA Division III All-Americans and 46 first-team all-CCIW performers in 11 seasons. Three players (David Chorney in 2001, Mike Hansen in 2003 and Tom Anthony in 2005) were selected as the CCIW "Player of the Year" while playing for Barnes. He mentored nine CoSIDA Academic All-Americans, and three players (Mackenzie Hay in 2000, Todd Baldwin in 2002 and Blaine Westemeyer in 2009) won the prestigious National Football Foundation Postgraduate Scholarship. Augustana also had a player represented in the Aztec Bowl (the NCAA Division III all-stars against Mexico's all-stars) every year during Barnes' tenure.

"Of additional distinction, the academic Game Plan for Success that I brought to Augustana contributed greatly to our team GPA rising nearly a quarter point during my tenure, and the long list of Academic All-Americans is extremely gratifying," Barnes said. "I had the opportunity to attract and work with great young men."

Rob Cushman, the defensive coordinator for the past three seasons, will replace Barnes.

"I am both humbled and honored to accept this position," said Cushman, who enjoyed three successful seasons of running the Vikings' defense under Barnes. His 2008 squad allowed just 13.4 points per game, which was seventh in NCAA Division III in points allowed and first in the CCIW in total defense. The Vikings compiled an overall record of 19-11 during the three years Cushman was in charge of the defense.

"We are ready to get started," said Cushman of his approach to the third head coaching tenure of a football career that began in 1979. "It has been enjoyable working in the Augustana environment and we, as a coaching staff, are going to get after it in recruiting and then move forward in preparation for next fall."
Lacrosse coaches begin building new programs
Sara Tisdale has been named Augustana's first varsity head coach in women's lacrosse. Tisdale has served as the head coach of the women's club lacrosse team at Michigan State in East Lansing for the past two years. She comes to Augustana with experience as a coach, educator and former player. The Vikings' varsity women's lacrosse team will take the field in the spring of 2012.
"I am thrilled to be joining the Augustana team, and I am looking forward to building an outstanding women's lacrosse program," said Tisdale, who was a first team all-state attack player at Waverly (Michigan) High School from 1999-2001 and helped lead Waverly to a state title in 2001. "Augustana has such a great tradition of success, and the women's lacrosse program will surely add to that."
Six months after the Augustana College Board of Trustees voted to add women's lacrosse, men's lacrosse was approved as a men's varsity sport beginning in the 2011-12 school year. A new lacrosse/soccer facility is planned adjacent to the PepsiCo Center.
Kyle Hart, who has been the assistant coach at Muhlenberg College in Allentown, Penn., for the past three years, is Augustana's new head coach in men's lacrosse. Hart graduated from Muhlenberg in 2007. He was twice selected to the all-conference team in the Centennial Conference and was Muhlenberg's first all-conference selection.
"As a student-athlete at Muhlenberg, Kyle was part of the startup process for that program, and that experience will serve him well at Augustana," noted Mike Zapolski, Augustana's director of athletics.
2010 TRIBE OF VIKINGS HONOREES
Augustana headliners from years past were honored at the 15th annual Tribe of Vikings Hall of Fame induction ceremony during Homecoming weekend in October. Members of the 2010 class of eight inductees, including one entire team, are profiled below:
Competing at the smallest weight class (123 pounds), John Lambert '66 virtually was unbeatable; he graduated with an overall record of 71-9-2. As a junior in 1965, he was instrumental in Augustana's 13th-place finish in the NCAA College Division, and when he was a senior, the Vikings placed fifth in the nation. Lambert worked as a CPA for Price Waterhouse, CFO and senior vice president at Burger King, CFO and executive vice president of Perkins Restaurants and owner of Lambert Consulting. Residents of Sarasota, Fla., Lambert and his wife, Carol, have three daughters.
Forget the fact that Richard Nixon was president the last time Rick Simmon '69 climbed out of the pool as a Viking. His swimming achievements are etched indelibly in the fabric of Augustana athletics. Three times he was named MVP in the CCIW meet. Simmon won nine CCIW events during his career, eight individual and one relay. He never lost an individual event in the conference meets. Simmon has been the owner of several Happy Joe's Pizza franchises in St. Louis, a business in which he has spent the last 36 years. He and his wife, Carolyn Eagle, have two teen-age sons.
Tony Hurd '81 may not have been the fastest or the winner of the most races but when it came to leadership, he may be without peer. As a senior, Hurd was the only captain on both the cross country and track and field teams. He led the Vikings to a pair of NCAA Division III runner-up finishes in cross country and track and field. Not blessed with tremendous leg speed, he developed a long finishing kick that wore out the competition. Hurd and his wife, Deborah, have two children and reside in Wilton, Iowa. Hurd is the vice president of information technology/service manager at WTC Communications/Integrated Technology Partners.
Bill Rapier '82 never played high school basketball. During his three years as a varsity player, Rapier led the Vikings to records of 64-19 (.771) overall and 39-9 (.813) in the CCIW. In 1981, the Vikings finished second in the NCAA Division III national tournament, and Rapier was named to the all-tournament team in the Final Four. Rapier retired from the Chicago Police Department after 21 years. He currently teaches health and physical education and coaches basketball, track and field, and cross country at Bogan High School in Chicago. Rapier and his wife, Tironda, reside in Chicago and have three children.
Tennis standout Mike Morkin '87 earned All-American honors twice for his play on the court, and he was named an Academic All-American in 1985. When he graduated, Morkin was the Vikings' record-holder for singles victories at 58, and all of those were achieved in the rugged No. 1 position. He still ranks second on the school's all-time list for career singles victories. After graduating from Augustana, he earned his juris doctor (J.D.) from the University of Illinois College of Law and has been an attorney for the last 20 years. Morkin is married to Christy Haen '88, and the couple has five children.
During his first year on campus, Greg Wallace '88 decided not to play football, which is ironic because he later would lead (as quarterback) the Vikings to two straight NCAA Division III national championships in 1985 and 1986. A four-year letterwinner and starter in baseball, he was selected the team's MVP in 1987. Wallace earned a master's of education and MBA from Frostburg State University in Maryland. As the Vikings' current baseball coach, he has posted a 387-177 record and led Augustana to the NCAA Division III national tournament three times. Wallace and his wife, Rona, have two sons, and reside in Rock Island.
Juli Weber '91 Micetich was one of the ringleaders of a track and field program that won two CCIW team titles (1988 and 1991) during her tenure. Twice she earned NCAA Division III All-American honors, and she left Augustana as a school record-holder in three relays. At the 1991 CCIW meet, she scored 31.5 points all by herself in six events. She received her doctorate of chiropractic from the National College of Chiropractic. For the past 13 years, she has co-owned Weber/Micetich Chiropractic Clinic with
her husband, Jon Micetich '90, himself a former standout track athlete. The couple has three children.
1985 Vikings Football Team: The NCAA expanded the Division III football playoffs to 16 teams in 1985, instead of the previous total of eight. It didn't make any difference to veteran head coach Bob Reade, however, as his 1985 Vikings ripped off a perfect 13-0 record en route to a third straight national championship. In the process the Vikings moved their winning streak to 37. Offensive tackle Steve Sanders '86 was an Academic All-American, as named by CoSIDA. Defensive back Mark Long '86, offensive tackle Jeff Widdop '86, offensive guard Tim Holmstrom '86 and defensive tackle Lynn Thomsen '87 earned All-America honors.
Contact Augustana Magazine editor Debbie Blaylock by email; by phone at (309) 794-8979; or by mail at Augustana College, 639 38th St., Rock Island, Ill., 61201.