March 7, 2011
2010-11 Season - Split session announced for NCAA Sectional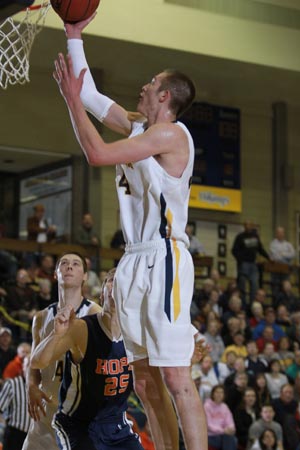 Bryant Voiles and the Augustana Vikings will host the NCAA Division III Sectional on Friday, March 11 and Saturday, March 12. Tickets will go on sale Tuesday, March 8 at 2:00 p.m. in the Carver Center.
There will be a split session for the opening night of the NCAA Division III men's basketball sectional tournament this weekend, March 11-12, at the Carver Center. Augustana will be hosting the four-team tournament which will send the winner to the NCAA Division III Final Four in Salem, Virginia the next weekend.
In the first game on Friday, March 11, St. Thomas (26-3) will square off against Wisconsin-Stevens Point (26-3) at 5:00 p.m. The Carver Center will then be cleared completely and the nightcap will feature Mary Hardin-Baylor (23-7) against the host Vikings (26-3). Tip-off for that game is set for 8:00 p.m.
Each game on Friday night will be treated as a separate session and fans purchasing tickets will be only allowed entrance to the game they have tickets for. Mike Zapolski, Augustana's director of athletics, explains the logic behind the split session.
"We are trying to accommodate as many fans as possible who want to see their team this weekend, especially on Friday night," said Zapolski, who recently served a four-year stint on the NCAA Division III men's basketball committee. "The ticket allocation set by the NCAA is fair and equitable and doing split sessions will give more people the opportunity to watch some outstanding basketball."
In a normal one-session format, Augustana, as the host institution, is allowed 50% of the ticket allotment while the other three teams split the other half. Because of the split session, the ticket allocation for each session will only pertain to the schools involved in that game.
Tickets will go on sale at 2:00 p.m. in the Carver Center on Tuesday, March 8. Ticket sales will close on Tuesday at 5:00 p.m. They will go back on sale again on Wednesday, March 9, from 9:00 a.m. until 5:00 p.m. and those hours will be repeated on Thursday, March 10. On Friday, March 11 the ticket sales will be from 9:00 a.m. until 12:00 noon. Any remaining tickets, for either session, will be put back on sale at 3:30 p.m. on Friday afternoon. All ticket sales are cash only – credit cards and checks will not be accepted. Ticket prices are $7.00 for adults and $4.00 for students (with ID) and seniors (60 and over). Children under the age of two will be admitted free of charge.
Following each game on Friday, fans for the winning team will be able to pur chase tickets for Saturday night's 7:00 p.m. championship game. Those tickets will be sold in the East end of the Carver arena, behind the bleachers. Any remaining tickets will go on sale at 12:00 noon Saturday in the Carver lobby.