March 4, 2011
2010-11 Season - Augustana gets NCAA win over Webster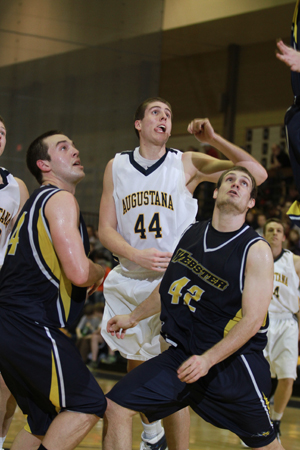 Sophomore center Luke Scarlata converted all six of his field goal attempts to finish with a career-high 12 points, leading the Vikings to a 76-51 NCAA first round win over Webster.
ROCK ISLAND, Ill.-Augustana knocked down eight first half three-pointers to jump to a 20-point halftime lead, then cruised to a 76-51 win over Webster in the first round of the NCAA Division III tournament Friday at Carver Center. Sophomore center Luke Scarlata (Morton HS, Berwyn, Ill.) converted all six of his field goal attempts and led the Vikings with 12 points.
Brian DeSimone (Buffalo Grove HS, Wheeling, Ill.) set the tone early, knocking down a three on the Vikings' second possession of the game. Augustana pushed the ball in transition effectively and grabbed an 11-2 lead on a Troy Rorer (Bettendorf HS, Bettendorf, Iowa) bucket four minutes in.
The lead continued to grow throughout the first half, reaching 30-13 on Chris Anderson's (West Carroll, Mt. Carroll, Ill.) three-pointer with 6:52 left. A Cody Bradfisch three and two more by Drew Moore helped the Gorloks cut the margin to 35-24 with 3:00 remaining, but the Vikings closed the period on a 10-1 run, fueled by the team's seven and eighth threes of the half by DeSimone and Bryant Voiles (Byron HS, Byron, Ill.). Augustana scorched the nets at a .593 (16-27) rate in the opening 20 minutes, including eight of 14 (.571) from long range. They also had a substantial 20-9 edge on the boards.
It was more of the same early in the second half as the lead reached its largest of the game at 54-27 on a George Dexter (Bettendorf HS, Bettendorf, Iowa) basket with 16:22 left. The Vikings went scoreless for the next five and a half minutes though and Webster reduced the margin to 18 with under 11 to play. A three pointer by Hollis Edwards with 8:12 left cut it to 17 at 61-44, but that's as close as the Gorloks would get. Augustana closed the game on a 13-5 run.
The Vikings got excellent scoring balance. Scarlata led the way with a career-high 12 points. He had five rebounds and a blocked shot in 17 minutes of action as well. DeSimone hit three of the Vikings' season high-tying 11 three-pointers and finished with 11. Voiles, Rorer and Mike Avallone (Neuqua Valley HS, Naperville, Ill.) each added eight. Avallone and Kyle Nelson (Deerfield HS, Deerfield, Ill.) grabbed a team-high six rebounds each and Voiles led the way with four assists and a pair of blocked shots.
Augustana finished 26 of 55 (.473) from the field and 11 of 23 (.478) from long range and held the Gorloks to 18 of 54 (.333) shooting and 6 of 19 (.316) from downtown. Webster's leading scorer on the year, Willie Trimble, was held to just two field goals in 14 attempts. The Vikings finished with a 45-25 advantage on the glass as well.
Next up is a showdown with 23-6 Hope, a 73-70 winner over Hanover in the evening's first game. The Vikings and Flying Dutchmen face off on Saturday at 7:00 p.m. at Carver Center for the right to advance to the sectional. Tickets for that contest will go on sale at 5:30 pm.