March 3, 2011
2011 Season - Vikings improve to 5-1 with 7-5 win over RHIT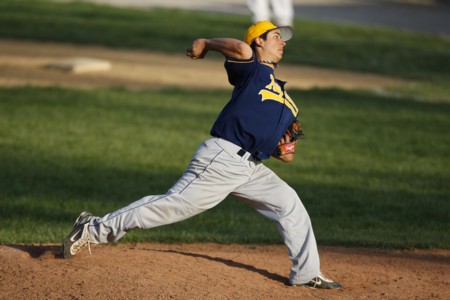 Junior Mike Trotta scattered seven hits over 6 2/3 innings Thursday to move to 2-0 on the year as Augustana defeated Rose-Hulman 7-5.
AUBURNDALE, Fla.-Starter Mike Trotta (Notre Dame HS, Chicago, Ill.) went 6 2/3 innings and Dave Hoffman (Cary-Grove HS, Cary, Ill.) and Kurt Schmidt (Grayslake Central HS, Grayslake, Ill.) paced the offense as Augustana improved to 5-1 on the year with a 7-5 win over Rose-Hulman Thursday. The Engineers have been an NCAA tournament participant each of the last three years.
The Vikings took a 3-0 lead in the bottom of the first. Leadoff man Kevin Serna (Rolling Meadows HS, Arlington Heights, Ill.) reached on an error and moved to third on a Schmidt double. Freshman first baseman Patrick Wilson (Stevenson HS, Vernon Hills, Ill.) brought home Serna with a grounder to second and Jeremy Juhl (Glenbard East HS, Lombard, Ill.) followed with a single to score Schmidt. A two-out double by Jared McIntosh (Assumption HS, Davenport, Iowa) scored Juhl to make it 3-0.
The Engineers cut it to 3-2 with a pair of runs in the top of the third and tied with a run in the fourth. Meanwhile Rose-Hulman starter Ethan Post settled down and held the Vikings without another run through the sixth.
Chris Erickson relieved Post to start the seventh and gave up a leadoff double to Schmidt, who came around to score on Hoffman's RBI single to make it 4-3 Vikings.
In the top of the eighth, Engineer Derek Dauenbaugh drew a leadoff walk from Augustana reliever Rick Erickson (Lake Zurich HS, Hawthorn Woods, Ill.). Erickson avoided any potential trouble though, by picking Dauenbaugh off. He then retired Chris Stemple before yielding to Viking closer Vince Frede (St. Charles East HS, St. Charles, Ill.), who induced a come-backer from Andrew Benitez to end the inning.
The Vikings broke the game open in the bottom of the frame. Anthony Concialdi (Fremd HS, Barrington, Ill.) led off with a walk and came around to score on an Engineer error and Hoffman delivered a two-out, two-run double to extend the lead to 7-3 after eight. RHIT's Bobby Newman touched Frede for a two-run triple in the bottom of the ninth, but Frede got Jamie Weinle to ground to Wilson at first to end the game.
Trotta scattered seven hits and issued one walk while fanning five to get the win and boost his record to 2-0 on the year. Frede picked up his second save. Hoffman went 3-for-5 with three RBI and Schmidt was 2-for-5, scoring three times. Juhl and McIntosh each went 2-for-4 with a run driven in.
Augustana wraps up the first leg of its Florida trip with a 10:30 a.m. game against St. John Fisher on Friday, March 4. The Vikings return to the Sunshine State for four more games March 18-20.