March 3, 2011
2011 Season - Vikings finish 6-4 in Florida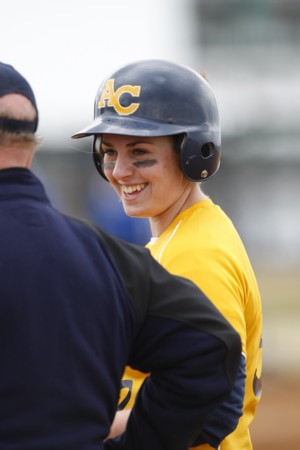 Senior third baseman Stephanie Sarb had her third triple of the year Thursday, but the Vikings fell to Alma 4-3. They bounced back to beat Hanover 8-1 in the day's second game
CLERMONT, Fla.-Augustana shook off a tough 4-3 loss to Alma to start the day and came back to pick up an 8-1 win over Hanover Thursday in Florida. Senior Stephanie Sarb (Lisle HS, Lisle, Ill.) laced her third triple of the season against Alma and freshman Ashley Yaros (Stagg HS, Palos Hills, Ill.) threw four scoreless innings in relief to get the win against Hanover. The Vikings wrapped up their Florida trip with a 6-4 record.
Alma 4, Augustana 3
All the scoring in this one came early. The Scots got all of their runs in the bottom of the first and Augustana answered with all three of its tallies in the top of the second.
Kelly Koenigsknecht led off the Alma first by getting hit by pitch. After Camille Dittmar sacrificed her to second, she came around to score on a pair of wild pitches by Viking starter Sheldon Ritzheimer (Wesclin HS, Trenton, Ill.). After three base-on-balls, Erin Pintek delivered a bases-clearing double to right to make it 4-0.
The Vikings came right back in the top of the second. Sarb's triple to right led off the inning and Melissa Nelson (West Aurora HS, Aurora, Ill.) followed with an RBI single to left. Jenna Nelson (Orion HS, Orion, Ill.) reached on a Scot error and Randi Applehans (Mountain Vista HS, Highlands Ranch, Colo.) moved the Nelsons to second and third with a sacrifice bunt. Melissa scored on a Jillian Gibbs (Rock Island HS, Rock Island, Ill.) sacrifice fly to center and Jenna came home on another Alma miscue to make it 4-3 after an inning and a half.
The pitchers took it from there. Ritzheimer settled down and allowed just one hit and no runs over the next three innings before yielding to freshman Sarah Hintz (Leroy HS, Leroy, Ill.) to start the fifth. Hintz retired Alma in order in the fifth and sixth, but Vikings couldn't get to Scot starter Tara Leddy, who went the distance for the win. Augustana's best opportunities came in the fourth and seventh innings, but the Vikings left runners stranded at second in both frames.
Ritzheimer took the loss, falling to 1-2 on the year.
Augustana 8, Hanover 1
The Vikings took advantage of seven errors, five passed balls, three wild pitches and four hit batters by Hanover to record an 8-1 win in their second game of the day.
Augustana jumped out in front 1-0 in the top of the first despite not getting a hit. Jessica Peterson (Marian Catholic HS, Lansing, Ill.) led off and reached on an error. She moved to second on a passed ball and scored on a Panther error. The Vikings had a chance to score more after a hit batter, base-on-balls and two more wild pitches, but Dege Abate (Downer Grove South HS, Downers Grove, Ill.) was throw out at the plate to end the inning.
After leaving two runners stranded in the top of the second, Augustana extended the lead to 4-0 in the third. Lauren Schneiderbauer (Sterling HS, Sterling, Ill.) led off being hit by pitch. She stole second and came around to score on a single to center by Abate. Jenna Nelson came through with a two-out double to center, scoring Abate and Sarb, who had singled.
The Panthers got an unearned run off Viking starter Hintz in the bottom of the third, but an Emilee Goad (Galesburg HS, Galesburg, Ill.) sacrifice fly in the fifth scored Allyssa Powles (Zion Benton HS, Wadsworth, Ill.) to make it 5-1. Augustana finished off the day by getting three runs without the benefit of a hit in the seventh.
Yaros relieved Hintz to start the fourth and allowed just one hit over the final four innings to pick up the win and improve to 2-0 on the year. Abate and Jenna Nelson were the offensive leaders. Abate went 2-for-2 with a run scored and one batted in and Nelson was 2-for-4 with a double and a pair of RBI.
Coach Kris Kistler's Vikings are now idle until March 19 when they begin play in the Washington University Tournament in St. Louis, Missouri.