3 opera singers and their 'professor of life'
March  15, 2011
By Beth Roberts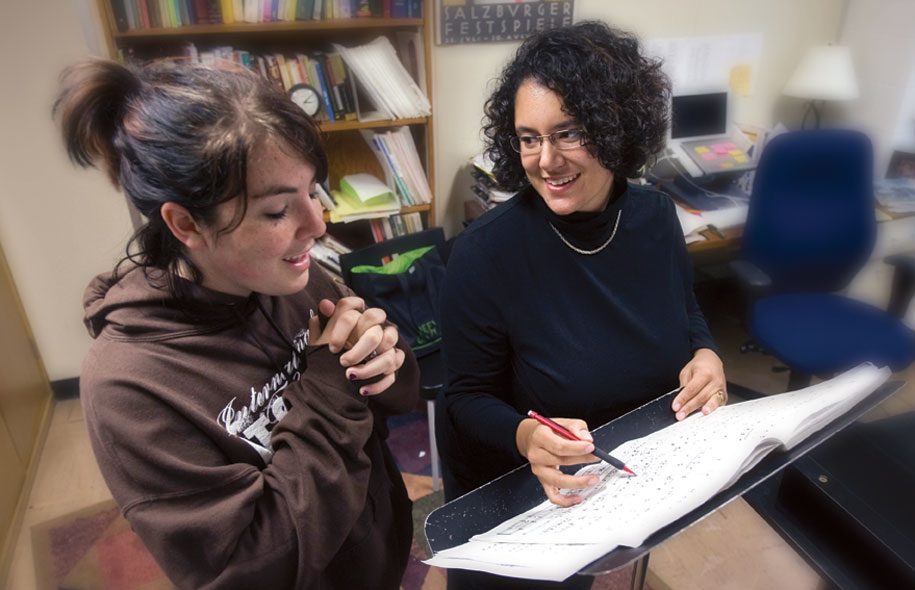 Dr. Sangeetha Rayapati, associate professor of voice, realizes the dividends of teaching young singers every day in her work at Augustana. Lately her success as a mentor for vocalists has reached a new pitch, with the rise of three former students on the operatic stage: Rebecca Caliendo '05, Molly Clodius '08 and Jennifer Lazarz '04.
After graduating from Augustana, sopranos Caliendo and Clodius went on to complete master's degrees in vocal performance at the University of Missouri. While their years of graduate study did not overlap, the two stay in touch by phone to keep each other grounded and compare challenges in their lives as opera singers. Caliendo is now an apprentice with Sarasota Opera, and Clodius teaches in her own studio in Columbia, Mo.
Clodius often uses techniques learned from Rayapati with her own 15 students, and calls her former professor "a huge factor" in her development as a singer. This is no small credit, as Clodius recently won the prestigious Music Teachers National Association competition at the national level--a competitive award for which Caliendo also was a finalist.
"When I think of my time with Rayapati, it makes me smile," said Clodius. "She was very supportive throughout my four years at Augustana and helped me with internships and graduate school."
Caliendo praises their former teacher for doing "more than simply work technique with singing. She should be a professor of life...isn't that what voice teachers do?"
With hard work comes success
Mezzo-soprano Jennifer Lazarz would likely agree. She recently joined Opera Tampa's New Artists program, in which she performs throughout the Tampa Bay area in community and educational outreach, and in programs with the Starz Center for Performing Arts.
"Dr. Rayapati sets very high standards for her students," said Lazarz, "and isn't afraid to let them know they can accomplish more than they thought, but it requires practice and hard work. I always believed, while I studied with her, that I could be successful but had to work for it. That is a common thread in the way the music department operates at Augustana, and, for that matter, the greater academic community."
If Rayapati's students reach their goals through hard work, in part it's because their teacher models these qualities. Lazarz recounts the time she first started working with Rayapati, who had never before taught a "real mezzo."
"In most circumstances that would frighten a young student with a less common voice type, but Dr. Rayapati made it abundantly clear that she was going to be a student as well, and learn everything about teaching my voice type. She not only reviewed her own academic history, but she contacted peers in the field for advice on literature. She encouraged me to talk to some of those people as well, to gain different perspectives. I think without that lesson--that it is necessary to gain different perspectives--I wouldn't have a career today.
"I came to Augustana an insecure girl who needed confidence and a family of peers, and found it in my lessons and music studies," Lazarz recalled. "I left Augustana a woman on a mission."
Singing through the ages
Helping vocalists to "live up to their potential, to discover what is possible" excites Rayapati most about training young singers. She loves when they can reach another level of performance as well as understanding. "I am training musicians," she said, "but training them also to understand themselves--their gifts and vocation--and how that can be a part of their music."
Rayapati also has done research and community service through working with aging singers, studying the benefits of formal voice instruction for the older population. For her, this perspective on the life cycle of the voice is "that avenue where my music making becomes more than entertainment...it's also a shared experience, a way of living in the world.
"It makes me a better teacher," she said. "I understand the instrument from beginning to end. I can teach students to understand it from the beginning to the end, and to cater to any type of population: from young children in schools to older adults in music therapy."
And opera?
Addressing the needs of vocalists of all ages, gaining and using a variety of perspectives, practicing and working hard...these are excellent qualities to promote in any pragmatic, well-organized, down-to-earth professional. So it's no wonder these protégées chose opera, right?
"Why anything else?" asked Rebecca Caliendo. "The entire process of experiencing the evolution of the composer's intention is an amazing thing. Costumes, text and poetry, set and lighting, the orchestra, and the voices--the emotion that is allowed to be released from the chorus, the principals, all the musicians--[it all] is the most amazing thing."
Molly Clodius chose opera while she was at Augustana, for the fact that it was "different and more challenging than anything else. To try to live up to the legacy is challenging in itself."
"I love the need for attention to detail, for meticulous planning, and also the demand for reckless abandon to the art," said Jennifer Lazarz. "You can't play a woman who stomps on everyone's hearts unless you know what you're saying, when you're saying it, and how to say it--and you've practiced it enough to act like you didn't practice it in the first place, that it is effortless.
"I always tell my students that you've got to fight for what you believe in," she added, "and sometimes it fights back. Opera is like that. It isn't always easy and there are lots of complications--both emotionally for characters and technically for singers--that can seem overwhelming. But when you get it right and you connect to the audience, it makes every painstaking moment worthwhile."
For these three artists, singing opera means you can have it all. And if a gifted professor at a strong liberal arts college can't introduce you to ways you can have it all-in your career and in life-then who can?
| | |
| --- | --- |
| | Molly Clodius '08, soprano, graduated with her master's in vocal performance from the University of Missouri-Columbia (UM) in 2010, where she studied under Ann Harrell. Clodius recently was named the 2010 Music Teachers National Association's National Competition Young Artist winner at its annual competition. She was last seen as Musetta in UM's Show-Me Opera's production of La Bohème and as Pamina in its production of Mozart's The Magic Flute. She also was involved in Show-Me Opera's scenes program and UM's University Singers. |
| | |
| | Rebecca Caliendo '05, soprano, completed her master's in vocal performance at the University of Missouri-Columbia. An active performer in the Chicago area, she appeared most recently as soloist with the Viennese Symphony of Chicago and Light Opera Works. While at the University of Missouri, Caliendo was featured soloist on the University Singers' European tour, 2007. Opera roles include Rosalinda in Johann Strauss' Die Fledermaus, Hanna Glavari in Lehár's Die Lustige Witwe, Mother in Menotti's Amahl and the Night Visitors, Letitia in Menotti's The Old Maid and the Thief, and Madame Herz in Mozart's Der Schauspieldirektor. |
| | |
| | Jennifer Lazarz '04, mezzo-soprano, returned to her hometown of Chicago after graduating from Augustana, and there she sang with the Grant Park Music Festival Chorus, the Music of the Baroque Chorus and the Chicago Symphony Chorus. She also sang with the Oregon Bach Festival Chorus under conductor Helmuth Rilling for several years. Recently, Lazarz joined Opera Tampa's New Artists program, performing in community programs throughout the Tampa Bay area and in the Starz Center for Performing Arts. This past fall she performed as Dodo in The Merry Widow and will join the ensemble for its spring production of La Traviata. |
| | |
Contact Augustana Magazine editor Debbie Blaylock by email; by phone at (309) 794-8979; or by mail at Augustana College, 639 38th St., Rock Island, Ill., 61201.