March 2, 2011
2011 Season - Four run sixth keys Widener win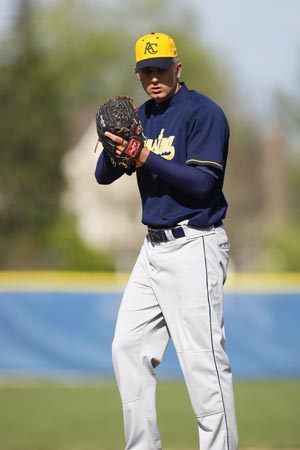 Josiah Martin pitched 3 1/3 scoreless innings in relief to help Augustana record an 8-7 come-from-behind victory over Widener on Wednesday, March 2.
Augustana used a four-run sixth inning Wednesday to pull out an 8-7 win over Widener and move to 4-1 on the young season. Junior right-hander Josiah Martin (Canton HS, Canton, Ill.) threw 3 1/3 scoreless innings in relief to get the win.
The Vikings took a 3-0 lead after the first half inning. Freshman Patrick Wilson (Stevenson HS, Vernon Hills, Ill.) had an RBI double and sophomore Jeremy Juhl (Glenbard East HS, Lombard, Ill.) and Joe Cecchi (Romeoville HS, Romeoville, Ill.) followed with run-scoring singles. After Widener got to Vikings starter Jon Peters (Alleman HS, Milan, Ill.) for a run in the bottom half, Kevin Serna (Rolling Meadows HS, Arlington Heights, Ill.) drove in T.J. O'Donnell (New Trier HS, Northbrook, Ill.) with a double in the top of the second to make it 4-1.
The lead didn't last long, as the Pioneers touched Peters for three more runs in the second and added a pair in the fourth and one in the fifth off freshman reliever Luke Lowery (Regis HS, Lone Tree, Colo.) to take a 7-4 lead. Martin came on and fanned Pioneer Tom Mahoney to get the Vikings out of the fifth without further damage.
Juhl started the Augustana sixth by reaching on an error and Cecchi followed with a single to knock out Widener starter Matt Day. Anthony Concialdi (Fremd HS, Barrington, Ill.) loaded the bases with another single and the Pioneer lead was cut to one when reliever Rick Kazigian issued consecutive base-on-balls to O'Donnell and Mike Lamb (Ottawa HS, Ottawa, Ill.). Two batters later, senior Dave Hoffman (Cary-Grove HS, Cary, Ill.) delivered a two-out single to score Concialdi and O'Donnell and give the Vikings the lead.
Martin held the Pioneers scoreless over the next three innings and Kazigian settled down and did the same to the Vikings. Senior right-hander Vince Frede (St. Charles East HS, St. Charles, Ill.) retired Widener in order in the ninth to pick up his first save of the season.
Augustana's offense was spread throughout its lineup. Eight Vikings recorded at least one hit with Cecchi collecting a pair. Seven Augustana players scored, including O'Donnell twice, and seven drove in a run or more, led by Hoffman's two. Martin gave up three hits and one walk while fanning two in 3 1/3 innings. He's now 1-0 on the season and has yet to be scored upon in three relief appearances.
The Vikings continue play in Florida with an 11:30 a.m. contest against Rose-Hulman on Thursday, March 3.