Building effective leaders
March  15, 2011
Editor's note: Augustana welcomed Greg Aguilar, a Quad-Cities native and a graduate of the University of Iowa, as the college's director of multicultural services last July.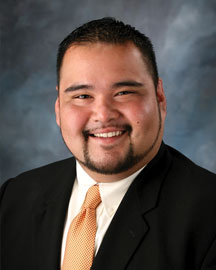 Greg Aguilar
Not one person is exactly the same as any other. Unfortu-nately, our society tends to group individuals based on one commonality; most often it is by race. After people have been brought together as a race, stereotypes can begin influencing how all people in that one group will be viewed by others. Although we cannot easily stop or change society from categorizing groups, we can celebrate our individuality. We also can recognize and celebrate the diverse makeup of our campus community and our country.
The demographics of the U.S. population have changed, and our country's multicultural communities are growing rapidly, especially within the Hispanic/Latino population. Some statistics from the U.S. Census Bureau:
• The U.S. Hispanic/Latino population, as of 2009, was ranked second worldwide; only Mexico had a larger Hispanic population.
• In the United States, one of every two people added to our nation's population between July 1, 2008 and July 1, 2009, was Hispanic.
• 22 percent of U.S. children younger than 18 were Hispanic (2009).
• 26 percent of U.S. children younger than 5 were Hispanic (2009).
---
"A campus population that closely matches national numbers in its student enrollment will better prepare our students for a life of leadership and service."
---
What will the nation's high school graduating class of 2026 look like? How about Augustana's class of 2030? Will faculty, staff and administrators be prepared to offer these students the best possible learning outcomes? Are services available to help children of immigrant parents who have grown up with English as their second language? Will they have enough role models on campus to guide and mentor them?
Although these statistics and questions may be tough to think about and answer, they reflect a true snapshot of the diversity shift that is occurring in our country and are the serious questions that must be asked. The members of these diverse groups want the same things as everyone else, and that is to be accepted for who they are and to be given a chance to succeed in life.
Any leader will tell you that it is easy to lead people who look and think like he or she does, but it is a far greater challenge to lead people who look and think differently than you. If one does not understand the needs and desires of the people they represent, it will be difficult to lead them. A leader must lead all people, not only the ones with whom he or she has the most in common.
This is why fostering a diverse campus environment is so important for our students. It will give them the opportunity to learn from their peers and classmates. They can learn to listen and to understand differences, which will provide alternative perspectives on issues. This, in turn, will help them better understand others as they transition from college life to independent living.
As the director of multicultural services at Augustana, I want to help create a campus environment that is open and welcoming to all cultures. A campus population that closely matches national numbers in its student enrollment will better prepare our students for a life of leadership and service. My hope is that through education and programming for students, faculty and administrators, we can promote understanding and compassion for all people who are a part of American society. Since my arrival, my office has sponsored a Mexican Day of the Dead celebration with the Latinos Unidos student group and dinners with student cultural groups and multicultural leaders in the community, in addition to helping coordinate the Martin Luther King Jr. campus celebration.
I want to help motivate and encourage our multicultural students and help strengthen Augustana's cultural groups on campus. By doing this we can build on what we already have accomplished as a college in helping prepare all our students to succeed in a global community.
Contact Augustana Magazine editor Debbie Blaylock by email; by phone at (309) 794-8979; or by mail at Augustana College, 639 38th St., Rock Island, Ill., 61201.