Retiring professors' careers total 113 years
March  15, 2011
The following professors are retiring but will continue to teach through the 2011-12 academic year as part of the college's phased retirement program. All three were honored at the 2010 commencement convocation.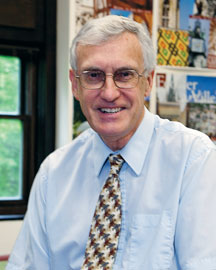 Dr. Roger Crossley
During the 2009-10 academic year, Dr. Roger Crossley discovered one of his students, Maggie Hayes '12, was the daughter of Melissa Hawkins '86 Hayes and John Hayes '86, two of his former students. "That was a certainly a reflection of time passed," Crossley said. "I think it was a little message that it's about time for me to retire."
Crossley came to Augustana in 1976 for his first (and last) full-time teaching job. Described as the French department's "modernist," Crossley has taught 19th-century novel and 20th-century courses as well as advanced grammar and translation. "His graduate specialty was existentialism; his Ph.D. dissertation was on Camus, but 15 years ago, a sabbatical helped him to shift his focus to Francophone literature, bringing Augustana's French department into the 21st century," said Dr. Jeff Abernathy, the college's former dean.
Since then, Crossley developed a world literature course and incorporated Francophone texts into his 20th-century courses, all of which have been popular with students. He traveled with students to France six times as the director of the college's French Summer Program.
With family in California and in England, Crossley sees more traveling ahead once he's fully retired. He also will continue volunteering as a translator for French-speaking clients at a legal agency in Davenport, Iowa. And then there's sheepherding. The couple owns a border collie, and Crossley's wife, Linda, is training to be a sheepherder. Crossley plans to join her.
On teaching at Augustana: "The variety of teaching, the liberal arts flavor, the opportunity to get to know my students...I enjoyed it more than being at a larger institution." R.C.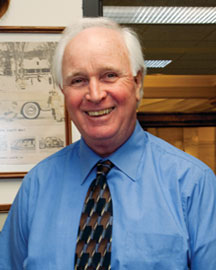 Dr. Lou Belby
In 1979, Dr. Lou Belby came to Augustana with an expertise in the theatre of Spain's Generation of 1898, but became best known to generations of Augustana students as their guide to the wonders of Cervantes' literary masterpiece Don Quixote.
Drawing on his diverse interests, Belby also helped create both the Latin American and Medieval Studies programs at Augustana, while introducing students to Latin America and Spain on several study abroad programs. Belby also has published and presented research in fields as varied as modern theatre and the history of foreign language methodology.
When Belby was appointed chair of the Spanish department more than 20 years ago during a time of curricular transition, he instituted changes designed to facilitate the study of Spanish. The redesigned Spanish curriculum "allowed more students to major or minor in Spanish, which is an important tool in many professional settings," Belby said. During his chairmanship, the department also became one of the first at Augustana to require a capstone experience.
"Dr. Belby's tenure as chair of the Spanish department helped to create what former President Tom Tredway frequently referred to as the Spanish Juggernaut, a language department that can count one in every 10 Augustana grads as one of its majors or minors--an astounding number to be sure," said Dr. Jeff Abernathy.
Once he's officially retired, don't be surprised to see Belby cruising down the road in his Z28 convertible or towing his camping trailer. He and his wife, Laura, have grand travel plans. But back home in Rock Island, Belby plans to spend time with his children (all Augustana grads) and grandchildren, volunteer in the community, repair antique cars and Lionel trains, and play golf with fellow retiree Dr. Roger Crossley.
On coming to Augustana: "I came here by accident, but I couldn't have done better if I'd planned it." L.B.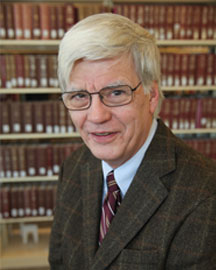 Dr.Don Erickson
When Dr. Don Erickson came to Augustana as an English instructor in 1965, it was in some ways a trial run. While a student at the University of Chicago, he thought it might be a good idea to try teaching before continuing his graduate studies. Three years at Augustana convinced him that he did, indeed, love teaching. He left to earn a doctorate at Washington University in St. Louis and then returned to campus in 1971...to stay.
During his four-decade tenure at Augustana, Erickson chaired both the English department and the Language and Literature division and served as the president of the college's chapter of Phi Beta Kappa. He was involved in the creation of Augustana's Foundations honors program. In 2007, Erickson was named the Dorothy J. Parkander Chair in Literature, a culminating professional honor.
Erickson's teaching spanned the English curriculum: introductory and advanced writing, and literature ranging from 18th-century satire to contemporary fiction. "He finds in literature not just a professional game to play but an authentic source of delight, challenge and consolation," said Dr. Jeff Abernathy. "It is ultimately, he has said, about the things that matter most to us in our shared humanity: joy and suffering, love and death."
After Augustana, Erickson says he may live--at least for part of each year--closer to the Pacific Ocean and his three children, who reside in San Francisco and Seattle, and "write droll poems to make my grandson [expected in April] chortle and smile." Other ambitions include "visiting Tuscany, Rome, Greece; and learning, belatedly, to sail."
On being a professor: "You're paid to wonder, to think about what matters to people, what they really want and need, to think longer and harder than many people have time for, and to help students join in.... If there's a better way to spend your life, I didn't find it." D.E.
Contact Augustana Magazine editor Debbie Blaylock by email; by phone at (309) 794-8979; or by mail at Augustana College, 639 38th St., Rock Island, Ill., 61201.