Glory restored
March  15, 2011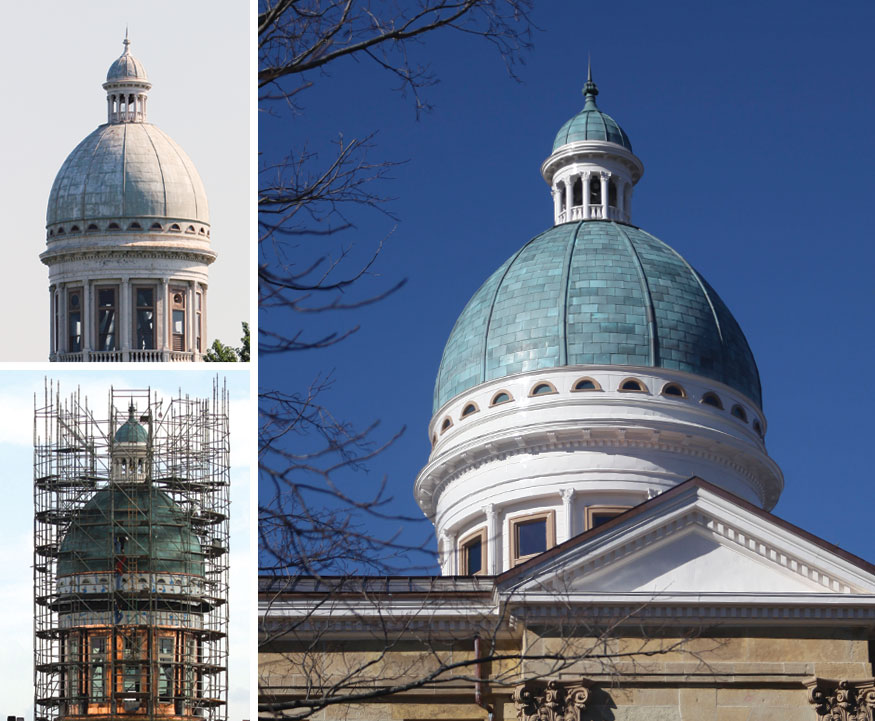 Old Main, symbol of the past, becomes a beacon for the college's future

Since 1889, Old Main and its lofty dome has stood as an enduring symbol for Augustana College and its Swedish heritage and commitment to the liberal arts. It is the one building that links every living Augustana graduate. But in recent years, Old Main has been showing its age. Structural deterioration and outdated classrooms have cast a shadow on the iconic building. The recently renovated Emmy Evald Carlsson Hall across the street seems to be garnering more attention from prospective students and their families.

That's about to change.

Phase I of the Old Main renovation project is nearly complete: repairing the dome and stone, replacing the roof, tuckpointing and replacing windows. A dome-lighting ceremony is planned for this fall, after which the dome will be lit every night, casting its warm glow from high above campus, truly symbolizing Augustana's mission. During Homecoming this fall, the college will host a celebration to honor members of the Class of 2001 at its 10th anniversary reunion. Their class gift, in part, funded the lights for the dome.

The lit dome stands as a tribute to the generosity of the college's alumni and many other supporters, whose donations through the years have helped ensure the legacy of Augustana in so many ways.

"I've talked with many alumni who are excited to support Old Main's renovation because to them, Old Main is more than a building; it represents four very important years in their lives in terms of what they learned, the lifelong friendships they made, and the person each of them has become," said Augustana President Steve Bahls.

Augustana 1960 graduates Bob Brockhouse and Carol Shannon would agree. Their lives intersected in Old Main. They never missed their 8 a.m. history class in the iconic building because it offered an opportunity to see each other. It was time well spent, as the two look forward to celebrating their 50th wedding anniversary in July.

To keep the momentum going, Augustana is continuing to seek funds to complete necessary updates to the interior of Old Main. Phase II of the project includes modernizing classrooms, adding computer kiosks, creating a two-floor forum space and updating faculty offices and seminar rooms. It's anticipated that all classrooms will have smartboards, new and brighter projection capabilities, Blu-Ray DVD playback and wireless networking. Also being considered are technologies for laptop or tablet-enabled collaboration spaces for group work, in addition to integration of receivers for student response systems into classroom consoles.

Professor Emerita of English Dr. Dorothy Parkander '46, who taught for 49 years at Augustana, probably considered Old Main her second home at one time. "Old Main represents, I think, for all former students the mark of the campus," Parkander said. "And you have to make a classroom fit the era in which it is going to be useful. So, of course Old Main needs to be renovated and equipped with all the new technology."

"You have to make a classroom fit the era in which it is going to be useful. So, of course Old Main needs to be renovated and equipped with all the new technology."




Professor Emerita of English Dr. Dorothy Parkander '46

$5 million to go

In 2005, Augustana launched its ambitious $100 million campaign, Authentically Augustana: A Call to Action. The public phase of the campaign began after more than $83 million had been committed during the quiet phase. Through the generosity of alumni and other friends of the college, Augustana has raised $127 million to date, but this doesn't include all the funding needed for capital projects on campus.

"We still need to raise funds for the two remaining capital projects: the renovation of Old Main and a new student center," said Lynn Jackson, Augustana's vice president of advancement. "At this time we are focusing primarily on completing the fund-raising for Old Main. We need to raise about $5 million to keep the project on pace for completion in 2012."

The success of the Authentically Augustana campaign during the past five years is testament to the value alumni place on their Augustana experience, Jackson said. "They value their time on campus and what their education means to them. They value what Augustana offers today's students."

Strong alumni participation benefits the college--and also alumni--in several ways, Jackson said. It is one of the barometers by which the strength of any college is measured. The first of these measures goes to the heart of Augustana: When alumni contribute philanthropically to their alma mater, it indicates they are pleased with the education they received, and want to keep the college strong for future generations. It also allows the college to maintain a higher national ranking, which benefits both recruitment and the strength and power of each graduate's diploma.

Alumni participation also is considered when the college applies for major grants from corporations and foundations. These organizations want to see evidence that the alumni base has confidence in its school.

"When considering alumni participation, the percentage of total alumni who give--at any financial level--to the college is crucial," said Beth Heiter, director of annual giving.

Supporting the continued renovation of Old Main helps ensures quality teaching and learning well into the 21st century. Alumni contributors can be proud to know they helped preserve a critical element of their alma mater's history--and their own.
Gifts that count in the Authentically Augustana campaign
Augustana's comprehensive fund-raising campaign includes all gifts to the college during the campaign time period of 2005-11; this encompasses Annual Operations, Capital, and Endowment goals.
• The Augustana Fund, The Annual Fund, Annual Operations - all these terms refer to gifts that come to the college with no donor restrictions, and are intended to be used in the year they were given and can be used at the school's discretion.
• Capital - funds that build, refurbish and maintain the campus environment, creating optimal environments for teaching and learning. With the completion of the Emmy Carlsson Evald Hall renovation and Swanson Commons residence center construction, the focus is now the interior renovation of Old Main and the construction of a new student center.
• Endowment - donor gifts the college pools and invests, keeping the gift money intact in perpetuity and spending only a portion of each year's earnings on identified needs, scholarships, faculty support and programming.
For more information about the campaign or how to make a gift, contact Scott Park, associate vice president of development, at (309) 794-7587; (800) 798-8100 x7587; or scottpark@augustana.edu. Additional details are available at www.augustana.edu/giving.
Contact Augustana Magazine editor Debbie Blaylock by email; by phone at (309) 794-8979; or by mail at Augustana College, 639 38th St., Rock Island, Ill., 61201.