Shine on, GOLD (Graduates Of the Last Decade)
March  15, 2011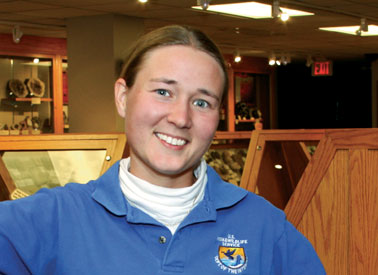 Amber Andress '06

Andress '06 protects wildlife during oil spill cleanup
Amber Andress '06, a fish and wildlife biologist with the U.S. Fish & Wildlife Service, was one of the thousands assigned to help with the BP oil spill cleanup. During her three-week assignment, she worked a 12-hour shift along a seven-mile stretch of undeveloped barrier island between Navarre and Pensacola beaches (part of the Gulf Island National Seashore).
Augustana's Udden Geology Club invited Andress to return to campus to speak about her experience. "We are exceptionally grateful to alumni who return to campus to talk about their careers," said Dr. Jeff Strasser, geology professor. "They provide direct windows to the world beyond Augustana and, by doing so, help students to explore their vocational options."
As a natural resource advisor assisting the National Park Service, Andress worked with BP contractors to ensure their cleanup efforts did not cause further damage to the area's natural resources. Her duties included locating entrances and exits to work areas through the least sensitive habitat. "The contractors had equipment to move in and out so it was important that foot and UTV traffic be confined to the smallest footprint possible," she explained.
Andress introduced workers to sensitive areas of the park, such as the dunes and sea oat stands, which provide the most pristine habitat for barrier island wildlife. She also regularly monitored active and potential work areas for nesting sea turtles and roosting shorebirds.
"The oiling on the beach that I worked was certainly less than the globs and masses of oil that many of the Louisiana salt marshes received," Andress said. "In my section, the oil that reached the white beaches was typically in solid to semi-solid tar ball form that was not as difficult to extract as a less viscous substance may have been.
"On the flip side, the tar balls acted like pebbles in the shifting sands and were quickly buried by wind and wave action. This means that in spite of our best efforts, it is likely that oil has been incorporated into the stratigraphy of the beach and may surface at a later date."
Andress said it's difficult to summarize the many lessons she learned from serving on such a large-scale environmental disaster. "It was inescapably clear, however, that time is a non-negotiable force of nature. Humans may provide the impetus for a landscape or ecosystem to heal or adapt to a new situation, but time alone will tell us how nature will respond to our actions."
At Augustana, Andress majored in biology and minored in geology and environmental studies. She encourages current geology students to be multi-disciplinary through internships and experiences, and then apply what they learn.
"Be able to understand things on a detailed level, but always, always, always maintain the ability to take a landscape perspective," she adds. "Perfect the art of brainstorming, and don't rule out any idea you may have until you have considered it thoroughly. I try my best to do this on a daily basis."
Mayo PT school honors '07 grads
Meghan Voiland McMillan and Beth Cloud weren't intimidated when they enrolled at the Mayo School of Health Sciences after graduating from Augustana in 2007.
They were prepared.
And when they received their doctorates of physical therapy, they were bestowed honors that distinguished them from their classmates. McMillan received the Outstanding Clinician Award and Cloud the Erik J. Aasen Award, which recognizes a person with an especially humanitarian spirit.
McMillan, a biology major who was an NCAA Division III national champion in the pole vault and an Academic All-American, now practices at Capitol Physical Therapy in Verona, Wis. She is married to Ted McMillan '09, also a former national champ and Academic All-American. In her current position, she treats mostly people with muscle and joint issues who are recovering from injuries.
"My experiences at Augustana and at Mayo prepared me for everything I've seen," McMillan said. "We felt like we knew the anatomy and kinesiology a lot better than the other Mayo students did, but we also had a better understanding of the big picture. Rather than just memorizing a list of muscles and bones, we were able to apply that knowledge in a clinical setting."
Cloud, a psychology and biology major, was one of the top trumpet players during her time at Augustana. She has remained at Mayo to pursue a doctorate in clinical and translational science, which bridges the gap between research and clinical practice. Her liberal arts education set her on that path.
"The psychology background gave me a perspective on human behavior and working with individuals that I wouldn't have gotten through studying just life sciences," Cloud said. "The two balanced each other really well and provided a background that is important for a physical therapist because you're not only figuring out what's wrong with someone, you have to figure out how to explain it to them and then how to help them through whatever it is."
Cloud's love of research was cultivated at Augustana, and she hopes to one day join the faculty at a school of physical therapy. Both she and McMillan say the highlight of their undergraduate experience was their time in the human cadaver lab, which proved invaluable to them at Mayo.
"You learn to appreciate things through pictures, but it's almost like you're discovering it yourself when you dissect," Cloud explained. "As soon as you see those pieces come together and as you dissect layer by layer, you see the relationships within the human body. Having that picture in your head when you're working with a patient and trying to understand how their muscles are working is really powerful. To have that opportunity as an undergraduate student was unique. My classmates at Mayo had a more limited perspective." -Eric Page-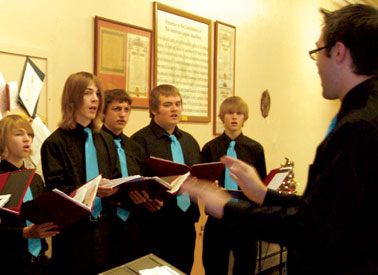 Kyle Severson '09

Severson '09 directs his choir to New York City
Less than two years ago, the Iroquois West High School Chamber Singers didn't exist. This spring, the 14-member choir will travel from Gilman, Ill., to New York City to perform Mozart's Coronation Mass and Martin's The Awakening at the Lincoln Center. No one could be prouder than the Chamber Singers' director, 2009 Augustana alumnus Kyle Severson, who assembled the group shortly after his arrival at the rural Illinois high school.
"I have some really talented vocal students who were not being challenged by the material in our choirs," said Severson, who directs four other choirs for grades 4-12 in the school district. He held auditions, and the newly formed group performed one song, Carol of the Bells, at the school's Christmas 2009 concert. The highly successful debut solidified the students' commitment.
In April, Severson arranged for his choir to compete in the Music in the Parks Festival in Cincinnati. Their performance caught the attention of nationally known choral director Dr. Rick Weymuth, who was serving as a judge. The Monday after the weekend performance, Severson received an email from Weymuth inviting the Iroquois West High School Chamber Singers to sing at Lincoln Center.
"I was shocked that he was so impressed after hearing us sing one time," Severson said. "Usually choirs send in recordings made over the past few years, but we don't have any because this group didn't exist then. So the Cincinnati performance was our audition."
Weymuth is the guest conductor for the Lincoln Center performance as well as the clinician for the residency. Severson's students will spend 10 hours in rehearsals with other outstanding singers from across the country over the five-day residency. Together, the choirs will perform as the Distinguished Concerts Singers International.
When not in rehearsal, the Iroquois West High School students will be sightseeing and soaking in the history and culture of "the city that never sleeps."
To illustrate the potential impact of this experience, it's important to mention that Iroquois West High School has an enrollment of 275, and approximately half of the student body is considered low-income. Students from five rural Illinois towns--Crescent City, Danforth, Gilman, Onarga and Thawville--attend the school. The populations of these communities range from 260 to 1800. "Of the 14 kids going, only three or four have been in an airplane before," Severson noted.
To make the trip affordable, Severson secured a $12,800 grant from the Dorothy C. and Richard A. Parks Foundation, and the students have raised $8,200 from community donations and various fund-raisers.
Severson strongly believes that singing in Avery Fisher Hall at the Lincoln Center, one of the country's most esteemed performance halls, will give his talented singers the confidence to "raise their personal goals higher and look for more opportunities" than they ever would have imagined. He says this performance will inspire them because they will know what can do if they work hard and want something badly enough.
It's the kind of performance confidence Augustana's Dr. Jon Hurty instilled in Severson during his four years as a member of the Augustana Choir. "He's incredible," Severson said. "He always pushed us to the highest level of excellence that we could possibly achieve. I try to do the same with my high school students."
Contact Augustana Magazine editor Debbie Blaylock by email; by phone at (309) 794-8979; or by mail at Augustana College, 639 38th St., Rock Island, Ill., 61201.