March 1, 2011
2011 Season - Augustana picks up two wins on Tuesday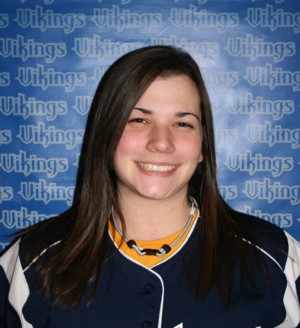 Dege Abate had four hits in six at-bats, scored three runs and drove in four more as Augustana improved to 5-3 with wins over Ferrum (12-7) and Widener (7-4).
CLERMONT, Fla.-Christina Trojanowski (Evergreen Park HS, Evergreen Park, Ill.) rapped out six hits in eight at-bats and Dege Abate (Downers Grove South HS, Downers Grove, Ill.) had a 4-for-6 day to help lead Augustana to a pair of wins Tuesday. The Vikings defeated Ferrum 12-7 in the first game and came back to take a 7-4 decision from Widener. The Vikings are now 5-3 on the season.
Augustana 12, Ferrum 7
Trojanowski had a big game, going 4-for-5 with a pair of singles, a double and a triple. She scored twice and drove in three as the Vikings came back from an early 3-0 deficit to improve to 4-3 on the year.
The Panthers touched Viking starter Sheldon Ritzheimer (Wesclin HS, Trenton, Ill.) for three runs in the bottom of the first. Courtney Burner drove in the first with a double to left and one batter later, Brittany Barlow also doubled to left, driving in a pair.
Augustana got even with three in the top of the third. Trojanowski came up with a two-out bases loaded triple after a walk and two Ferrum errors. The Vikings took a 4-3 lead the next inning. Abate led off with a walk and was run for by freshman Alyssa Powles (Zion Benton HS, Wadsworth, Ill.) who eventually came around to score on a sacrifice fly by freshman Krista Watson (Coal City HS, Coal City, Ill.).
The Vikings got a five-spot in the fifth to break the game open. Abate drove in the first two runs with a double to center and Jenna Nelson (Orion HS, Orion, Ill.) the next two with a two-bagger to left. Nelson scored on one of six Panther errors in the game to make it 9-3.
Ferrum got a three-run homer from Barlow in the bottom of the frame, but Augustana came right back with three of its own in the top of the sixth. Trojanowski doubled and scored on another Ferrum miscue. Melissa Nelson (West Aurora HS, Aurora, Ill.) came home on another error and Jenna Nelson's single to center scored Abate. Ferrum added an unearned run off Viking freshman Sarah Hintz (Leroy HS, Leroy, Ill.) in the bottom of the seventh, but nothing more.
Ritzheimer went five innings to pick up the win and even her record at 1-1. Jenna Nelson had a pair of hits and drove in three. Abate was 2-for-3 with two runs scored and two RBI and Jillian Gibbs (Rock Island HS, Rock Island, Ill.) added two hits in four at-bats.
Augustana 7, Widener 4
In the second game of the day, Augustana got two hits each from Stephanie Sarb (Lisle HS, Lisle, Ill.), Trojanowski, Abate and Watson. Watson and Trojanowski scored twice while Sarb drove in three and Abate two. Melissa Nelson had two RBI also despite not getting a hit.
The Pioneers took advantage of two Viking errors to score three in the top of the first. Jen Nance's two-run single to center was the big blow. Augustana took a 4-3 lead in the bottom of the frame on an Abate RBI grounder, a two-run triple by Sarb and a Melissa Nelson sacrifice fly.
After the first, Viking start Ashley Yaros (Stagg HS, Palos Hills, Ill.) settled down and gave up just a run in the sixth the rest of the way. Meanwhile, Augustana got all the runs they would need in the bottom of the fifth. With one out, Watson, Trojanowski, Abate and Sarb strung together four straight singles to put three runs on the board. The Pioneer run in the sixth made the final 7-4.
Yaros went the distance, allowing six hits and four runs (three earned) to pick up her first collegiate win.