March 1, 2011
2010-11 Season - Kyle Nelson one of 10 Jostens finalists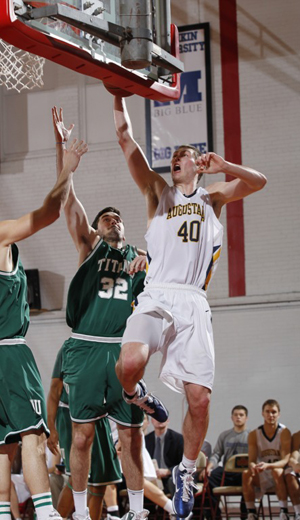 Augustana senior Kyle Nelson has been named one of 10 finalists for the prestigious Jostens Award.
SALEM, Va.-Augustana senior Kyle Nelson (Deerfield HS, Deerfield, Ill.) was named today as one of 10 finalists for the prestigious Jostens Trophy awarded by the Rotary Club of Salem, Virginia. The winner will be announced by March 9 and the award presentation will take place on Thursday, March 17 at the Salem Civic Center in conjunction with the NCAA Division III Final Four.
The Jostens Trophy is a national award to honor the most outstanding men's and women's Division III basketball players of the year. The award takes into account three vital parts: basketball ability, academic prowess and community service. The trophy models the Rotary International motto of "Service above Self" by recognizing those who truly fit the ideal of the well-rounded Division III student-athlete. This year's class marks the 14th year the award has been presented.
Drew Wessels, in 2007, was Augustana's last Jostens Trophy finalist.
Nelson, a 6-9, 230-pound senior center, has led the Vikings in scoring and rebounding each of the last two seasons, earning first team all-conference recognition in the College Conference of Illinois & Wisconsin both years. In 2009-10, he was a third team All-Midwest Region selection and earned fifth team pre-season All-America honors from D3Hoops.com this year. The Vikings have compiled a record of 81-27 during his four years with two CCIW regular season championships and a pair of conference tournament titles as well.
Heading into this year's NCAA Division III tournament, Nelson is averaging 14.1 points and 6.6 rebounds per game for the 24-3, 7th-ranked Vikings. He's shooting .530 from the floor and currently ranks ninth in career field goal shooting at Augustana with a .562 mark. Despite starting for just two years, he ranks 27th on the school's career scoring list with 903 points and is 26th in career rebounds with 448.
Kyle is the son of Barry and Jeanne Nelson of Deerfield, Illinois and carries a 3.41 grade point average in math and finance. He's a member of the Dean's list and a three-time academic all-conference selection. He's also been active with Habitat for Humanity in Waukegan, Illinois and Athletes Giving Back at Augustana. Habitat builds affordable homes for low-income families, while AGB works in conjunction with the Student Athletics Advisory Committee to provide a wide range of service opportunities to offer students a chance to get to know the community.