February 28, 2011
2010-11 Season - Vikings edged by Alma 5-4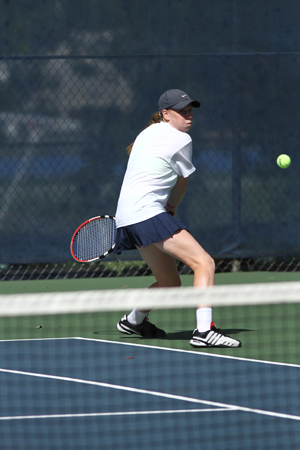 Shannen McNamara won 6-1 and 6-1 at number one singles and teamed with Kim Sawyer for an 8-0 win at number one doubles, but it wasn't enough to keep the Vikings from falling 5-4 to Alma
ORLANDO, Fla. - The Augustana women's tennis team dropped a 5-4 decision to Alma on Monday, February 28 to open the team's trip in Orlando, Florida. Freshmen Shannen McNamara (Battle Mountain HS, Avon, Colo.) and Kim Sawyer (Batavia HS, Batavia, Ill.) earned victories at No. 1 and No. 2 singles and also won at No. 1 doubles for the Vikings.
McNamara and Sawyer cruised to an (8-0) victory over Jen Meloche and Abby McCue to put the Blue & Gold on the board first. Alma evened the match at 1-1 with a win at No. 3 doubles where Augustana's senior Sheri Hendricks (Wheaton Warrenville South HS, Warrenville, Ill.) and freshman Emily Kaczmarek (Glenbard South HS, Lombard, Ill.) lost (8-4) to Katie Meloche and Lauren Moreau. Senior Tricia Sapio (Barrington HS, Hoffman Estates, Ill.) and sophomore Krista Panko (Geneva HS, Geneva, Ill.) fought off two match points and hung on for a (9-8 (6)) win at No. 2, defeating Amy Baranowski and Lauren Stevenson to give Augustana a 2-1 edge heading into singles action.
McNamara was a (6-1, 6-1) winner against Meloche at No. 1 and Sawyer won (6-2, 6-2) over McCue at No. 2 to make the score 4-1, but Augustana was unable to pull out any of the remaining matches and fell one point short of a victory. Sapio dropped a three set match (5-7, 6-2, 6-3) to Baranowski at No. 3 while Panko lost (6-0, 6-1) to Stevenson at No. 4. Junior Brittany Reece (Naperville Neuqua Valley HS, Naperville, Ill.) played two close sets before falling (6-4, 6-3) to Katie Meloche at No. 5. Sophomore Meghan Wethington (Geneseo HS, Geneseo, Ill.) battled back and forth for three sets, eventually losing (4-6, 6-2, 6-4).
Augustana will resume action on Wednesday, March 2 with a match against Webber International, an NAIA school from Florida. The Vikings are now 9-4 overall this season.
02/28/10 - Alma 5, Augustana 4
| | |
| --- | --- |
| POS | RESULT |
| Singles | |
| 1. | Shannen McNamara (AUGIE) def. Jen Meloche (ALMA) 6-1, 6-1 |
| 2. | Kim Sawyer (AUGIE) def. Abby McCue (ALMA) 6-2, 6-2 |
| 3. | Amy Baranowski (ALMA) def. Tricia Sapio (AUGIE) 5-7, 6-2, 6-3 |
| 4. | Lauren Stevenson (ALMA) def. Krista Panko (AUGIE) 6-0, 6-1 |
| 5. | Katie Meloche (ALMA) def. Brittany Reece (AUGIE) 6-4, 6-3 |
| 6. | Lauren Moreau (ALMA) def. Meghan Wethington (AUGIE) 4-6, 6-2, 6-4 |
| Doubles | |
| 1. | Shannen McNamara/Kim Sawyer (AUGIE) def. Jen Meloche/Abby McCue (ALMA) 8-0 |
| 2. | Tricia Sapio/Krista Panko (AUGIE) def. Amy Baranowski/Lauren Stevenson (ALMA) 9-8 (6) |
| 3. | Katie Meloche/Lauren Moreau (ALMA) def. Sheri Hendricks/Emily Kaczmarek (AUGIE) 8-4 |