February 27, 2011
2011 Season - Vikings drop two games to Michigan schools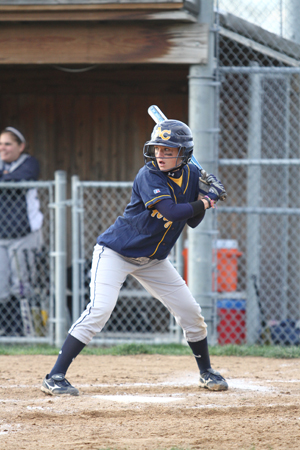 Christina Trojanowski went 4-for-8 with three RBI Sunday, but it wasn't enough to keep the Vikings from dropping games to Alma, 3-2, and Adrian, 8-3.
CLERMONT, Fla.-The Augustana softball team suffered a pair of setbacks Sunday in Florida. Alma struck for three runs in the bottom of the seventh to claim a 3-2 win in the day's first game and Adrian used a six-run sixth to defeat the Vikings 8-3 later in the day.
Alma 3, Augustana 2
Chelsea Jensen's fielder's choice grounder in the bottom of the seventh brought home the winning run to give Alma a 3-2 win over the Vikings.
Trailing 2-0 entering the frame, Louise Rezmer got things started with a one-out single off Vikings starter Sarah Hintz (Leroy HS, Leroy, Ill.). Kayla Smart followed with a single to center. Pinch hitter Erin Pintek singled to right, scoring pinch runner Brittany Grys and Lauren Davis tied it at 2-2 with an RBI single to center. Jensen's grounder to second then scored pinch runner Sarah Johnson with the winning run.
Augustana had taken a 2-0 lead in the top of the first. Stephanie Sarb's (Lisle HS, Lisle, Ill.) two-run triple to left scored Jessica Peterson (Marian Catholic HS, Lansing, Ill.) and Christian Trojanowski (Evergreen Park HS, Evergreen Park, Ill.), who had started the inning with consecutive singles. However, Sarb was cut down at the plate attempting to score on a Melissa Nelson (West Aurora HS, Aurora, Ill.) bunt.
Hintz pitched out of a jam in the sixth, leaving two runners stranded after Nelson had cut down another Scot at the plate from left field.
Scot starter Tara Leddy went the distance, scattering nine hits to pick up the win. Hintz, who had allowed just one run through her first 18 1/3 innings this season, also went the distance and took her first loss against two wins. Peterson led the Viking offense with three hits while Trojanowski had a pair.
Adrian 8, Augustana 3
The Bulldogs blew open a tight game with six runs in the sixth inning and held on for the 8-3 win.
Augustana had taken a 1-0 lead in the bottom of the third when Trojanowski singled in freshman Lauren Schneiderbauer (Sterling HS, Sterling, Ill.) who had drawn a leadoff walk.
Each team scored twice in the fourth. Adrian took a 2-1 lead when Brittany Bertrand, who had reached on an error, scored. Maggy Hein's single to left scored pinch runner Chloe Stiriz with the Bulldogs' first run. The Vikings came right back to retake the lead 3-2. Freshman Kelsey Winter (United Township HS, East Moline, Ill.) reached on an error to start the inning and Schneiderbauer followed with a walk. Both moved up on a wild pitch and scored when Trojanowski reached on an error.
The scored stayed 3-2 until the top of the sixth. The Bulldogs tied it when Bertrand led off with a walk against reliever Rachel Perry (Illinois Valley Central HS, Chillicothe, Ill.) and scored on Hein's single to left. After freshman Ashley Yaros (Stagg HS, Palos Hills, Ill.) came on in relief, Sarah Hall drove in two runs with a double to center and Amara Karapas finished the barrage with a three run homer.
Augustana threatened in the bottom of the inning, loading the bases on an error, a walk and a single, but Bulldog hurler Kelly Eberhardt was able to pitch out of it and then retired the Vikings without incident in the seventh.
Perry took the loss in relief to fall to 1-1 on the year. Eberhardt went the distance to get the win for Adrian. Trojanowski and Nelson, with two each, accounted for all of the Viking hits. Trojanowski drove in all the Augustana runs.
The Vikings continue play in Florida with games against Ferrum at 9:30 a.m. and Widener at 11:30 a.m. on Tuesday, March 1.