February 26, 2011
2011 Season - Augustana splits on Saturday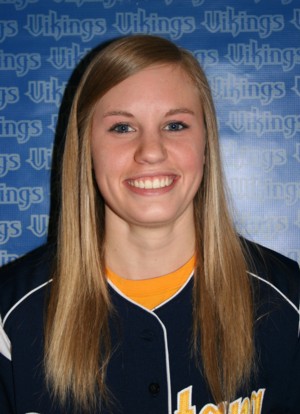 Freshman Sarah Hintz threw five shutout innings to lead the Vikings to a 6-2 win over Concordia Saturday.
CLERMONT, Fla. - Kris Kistler's Augustana softball team split a pair of games on Saturday, getting five shutout innings from freshman Sarah Hintz (Leroy HS, Leroy, Ill.) to defeat Concordia 6-2 before falling to Davenport 9-1. The Vikings are now 3-1 on the young season.
Augustana 6, Concordia 2
Sophomore shortstop Jessica Peterson (Marian Catholic HS, Lansing, Ill.) continued her hot hitting, going 3-for-3 with a pair of RBI and freshman catcher Randi Applehans (Mountain Vista HS, Highlands Ranch, Colo.) added two RBI as well in support of Hintz.
The Vikings got on the board in the fourth, getting a leadoff double from Stephanie Sarb (Lisle HS, Lisle, Ill.) and a single from Applehans which scored Abbi Staples (Sterling HS, Sterling, Ill.), who had run for Sarb.
Augustana added two runs each in the fifth and sixth. In the fifth, the Vikings used a leadoff single to center from freshman Kelsey Winter (United Township HS, East Moline, Ill.) and a pair of Cobber errors to push the lead to 3-0. They made it 5-0 in the top of the sixth on a two-run single by Peterson. Lauren Schneiderbauer (Sterling HS, Sterling, Ill.), who tripled to start the frame and Rachel Russell (Hinsdale South HS, Willowbrook, Ill.), who had singled, came around to score.
The Cobbers touched Augustana reliever Rachel Perry (Illinois Valley Central HS, Chillicothe, Ill.) for its only runs in the bottom of the sixth, getting an RBI single from Emily Salo and a run-scoring double from Kaia Sele.
Applehans drove in Sarb with the Vikings final run in the top of the seventh.
Hintz surrendered two hits, walked none and fanned five to get the win and improve to 2-0. She has given up just three hits and no runs in nine innings while walking one and fanning 14 thus far this season.
Davenport 9, Augustana 1
Davenport scored four runs each in the first and third innings and cruised to a 9-1 win in the Vikings' second game Saturday. The Panthers got home runs from Heather Brusokas and Katie Cornman while Liz Veltman and Debra Burton each doubled and drove in two runs.
Brianna Carpenter limited the Vikings to just four hits and one unearned run in a six-inning complete game. Sophomore Jenna Nelson (Orion HS, Orion, Ill.) drove in the only Augustana run with a single to right in the fifth.
Senior right-hander Sheldon Ritzheimer (Wesclin HS, Trenton, Ill.) took the loss in her first start of the season. Freshman Jaime Rehmert (Sterling HS, Sterling, Ill.) saw time on the mound as well and Hintz threw three innings and finally allowed her first run of the season.
The Vikings face Alma and Adrian on Sunday.