February 28, 2011
2011 Season - Homolka's one-hitter goes for naught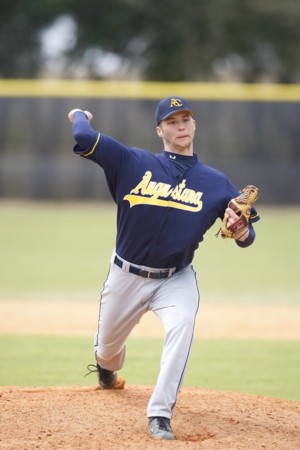 Senior Ray Homolka went the distance Monday, allowing just one hit and no earned runs, but took a tough luck loss at the hands of Wartburg, 2-0.
AUBURNDALE, Fla. - Senior Ray Homolka (Glenbard West HS, Wheaton, Ill.) fired a complete game one-hitter, but was the victim of four errors and came up a tough luck loser as two Wartburg hurlers shut out Augustana 2-0 in Florida Monday. The Vikings suffered their first loss after three wins to open the season.
The Knights would get their only hit and both of their runs in the top of the third. Levi Montague touched Homolka for a one-out single and came around to score on back-to-back Augustana errors. Ryan Doty, who reached on the first of those miscues, scored Wartburg's second run on an infield grounder.
The Vikings threatened, but couldn't score in the seventh and ninth innings. They got a one-out single by Dave Hoffman (Cary-Grove HS, Cary, Ill.) and a two-out base-on-balls to Mike Barker (Grandview, Colo. Centennial HS, Marina Del Rey, Cal.) in the seventh, but both were left stranded.
In the ninth, Kevin Serna (Rolling Meadows HS, Arlington Heights, Ill.) and Kurt Schmidt (Grayslake Central HS, Grayslake, Ill.) started the frame with consecutive singles and were sacrificed to second and third by Hoffman. One out later Barker was hit by pitch to load the bases, but Doty, who had moved from second base to the mound to relieve Knight starter Daniel Grosser in the eighth, retired Jared McIntosh (Assumption HS, Davenport, Iowa) to end the game.
Homolka (0-1) was outstanding. He fanned six, walked none and retired 17 of the last 18 batters he faced. Excluding the four Viking errors, the only Knight to reach base was Montague, who was hit by pitch in the eighth in addition to his third-inning single. Grosser limited the Vikings to two hits in 7 2/3 innings to pick up the win while Doty earned the save.
Augustana is back in action on Wednesday, March 2 against Widener. That game is scheduled for 11:00 a.m. at Chain-of-Lakes #4 in Winter Haven, Florida.