Vikings learn they'll take on Webster in 1st round
Game time is 7:30 Friday night at Carver Center
February  28, 2011
The Augustana men's basketball team, fans and reporters gathered Monday to watch the announcement of NCAA Division III tournament pairings. They found out that the Vikings will host Webster University Friday. (See bracket)
"We'll have a great opportunity for the campus and community to get the NCAA experience " said an upbeat head coach Grey Giovanine. "Carver has been a great home court all year and I expect it will be this weekend."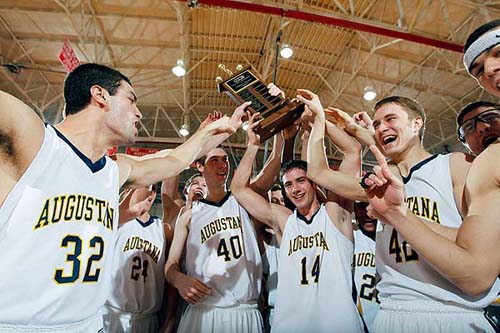 The Vikings hold aloft their CCIW trophy Saturday night after beating Illinois Wesleyan.
NCAA action here Friday: Hope College (Holland, Mich.) vs. Hanover College (Hanover, Ind.), 5:30 p.m., followed by Augustana College vs. Webster University. The winners of those games will meet at 7 p.m. Saturday, March 5, for the right to advance to the Sweet 16.
Tickets for the first-round games will go on sale at 4 p.m. Friday at the Carver Center. Tickets for the second-round game will go on sale at 5:30 p.m. Saturday. All tickets will be general admission. There will be no advance sales.
Tickets are $6 for adults, $3 for seniors (60+), students with valid ID and children ages 3-18. Children age 2 and under will be admitted free of charge.
The players, still glowing from their victory in last weekend's CCIW championship, were smiling but tense with anticipation while they ate pizza and waited to find out Augustana's place in the NCAA bracket. They had awhile to wait as the roll of the 61 teams slowly progressed, but a loud cheer went up instantly when "Augustana College" was announced.
As reporters began interviewing the players' for their reaction to the NCAA pairings, coach Giovanine, athletics director Mike Zapolski and sports information director Dave Wrath scrutinized their hand-drawn copy of the bracket. "Everybody here is in this tournament because they've done something to get there," said Giovanine. "It's a tough four-team bracket."
Senior Bryant Voiles said he enjoyed being able to experience the announcement as a group and was happy to learn he would be playing at home.
"I think there were a lot of nerves around those last two conference games," he said.
After running up a 20-game winning streak to start the season, Augustana seemed to falter in the last five regular-season games, losing to Carthage, North Central and Illinois Wesleyan.
Somehow, said Voiles and teammate senior Kyle Nelson, the players managed to refocus and put the losses behind them. They did so in a big way, beating Wheaton 73-58 and Illinois Wesleyan 76-52 to win the CCIW title.
A playful team swimming session at Carver Center before the CCIW tournament may have helped. "We had to detox from those two losses and just have a good time," said Nelson.
Coach Giovanine said he believes his team played some of its best basketball of the year at the CCIW tournament and Nelson agreed. "We're going in playing our best," he said.
"It's a one-game season now," said Voiles.