February 25, 2011
2011 Season - Vikings sweep Grove City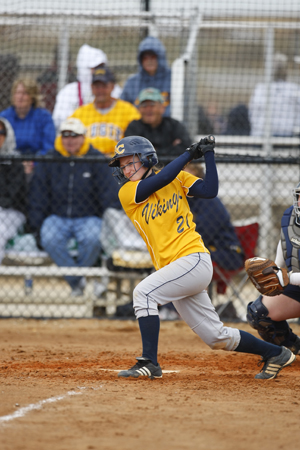 Jessica Peterson had two hits in each game as Augustana opened the season by sweeping Grove City 6-2 and 9-1 in Florida on Friday.
CLEARMONT, Fla.-Augustana rode solid pitching and timely hitting to open the season with a doubleheader sweep of Grove City in Clermont, Florida Friday. Viking pitchers yielded just one earned run on the day, while the offense produced 26 hits and 15 runs.
Sophomore shortstop Jessica Peterson (Marian Catholic HS, Lansing, Ill.) had two hits in each game from the leadoff spot to lead the offense and freshman Sarah Hintz (Leroy HS, Leroy, Ill.) and senior Rachel Perry (Illinois Valley Central HS, Chillicothe, Ill.) each picked up pitching victories in starting assignments.
Game One: Augustana 6, Grove City 2
After leaving two runners on in the third inning, the Vikings broke open a scoreless game in the top of the fourth. Stephanie Sarb (Lisle HS, Lisle, Ill.) reached on an error to start the inning. Freshman Lauren Schneiderbauer (Sterling HS, Sterling, Ill.), running for Sarb, stole second, advanced to third on a passed ball and scored the game's first run on a Jillian Gibbs (Rock Island HS, Rock Island, Ill.) bunt. Freshman Randi Applehans (Mountain Vista HS, Highlands Ranch, Colo.) walked and scored on an error and sophomore Rachel Russell (Hinsdale South HS, Willowbrook, Ill.) singled and scored on Peterson's RBI single to right.
Augustana added three more runs in the fifth. Senior Melissa Nelson (West Aurora HS, Aurora, Ill.) led off with a double and after advancing to third on a single by Sarb, scored on freshman Jamie Rehmert's (Sterling HS, Sterling, Ill.) sacrifice fly to center. Applehans doubled to left moving Sarb to third and both advanced on a passed ball. Russell's single to left scored Applehans to make it 6-0.
Meanwhile, Hintz cruised through four innings, allowing the Wolverines just a single hit and no runs. Rehmert relieved her to start the fifth and allowed just one hit over the final three innings, a home run to Amanda Sheppeck in the sixth. That two-runs blast followed a two-out error by the Vikings and both runs were unearned.
Applehans, Russell and Sarb joined Peterson with a pair of hits each.
Game Two: Augustana 9, Grove City 1
The Wolverines got a Faith Piper double in the first inning of game two and she later scored on a wild pitch to give Grove City a 1-0 lead. However, it was all Vikings from that point on.
They responded with a pair of runs in the bottom of the third to take the lead. Nelson's double to center brought home Viking freshman Allyssa Powles (Zion Benton HS, Wadsworth, Ill.) who had reached on an error to start the inning. Christian Trojanowski (Evergreen Park HS, Evergreen Park, Ill.), who had singled earlier, scored the second run on a Sarb sacrifice fly.
Augustana added a run in the fourth, stringing four singles together, with Gibbs scoring on a Peterson single to left. The Vikings broke the game open with four in the fifth. Sophomore Jenna Nelson (Orion HS, Orion, Ill.) drove in two runs with a single to center and sophomore Dege Abate (Downers Grove South HS, Downers Grove, Ill.) doubled and scored one of two unearned runs to make it 7-1 after five.
A pair of runs in the bottom of the sixth gave the Vikings a 9-1 lead, triggering the mercy rule. Schneiderbauer drove in a run reaching on an error and freshman Chaney Tambling (Dwight HS, Dwight, Ill.) singled to score senior Emilee Goad (Galesburg HS, Galesburg, Ill.) with the final run.
In addition to Peterson, Trojanowski, Melissa Nelson, Jenna Nelson and Abate each had two hits for Augustana.
2-0 on the young season, the Vikings will face Concordia College and Davenport University on Saturday, February 26.