February 26, 2011
2010-11 Season - Scholten, Graham earn NCAA berths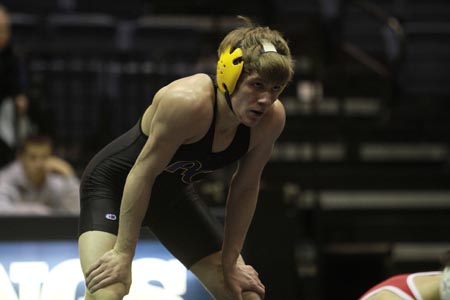 Freshman Jacob Scholten won the 125 pound weight class at the NCAA Great Lakes Regional and qualified for the NCAA Division III national tournament. He is now 38-6 this season.
SHEBOYGAN, Wis. - A pair of freshmen will represent Augustana at the NCAA Division III national wrestling tournament on March 11-12 in LaCrosse Wisconsin. Jacob Scholten (Rockford HS, Grandville, Mich.) was the winner at 125 and Jordan Graham (Big Rapids HS, Fremont, Mich.) placed third at 165 at the NCAA Great Lakes Regional on Saturday, February 26 in Sheboygan, Wisconsin.
Scholten, the number one seed at 125, won three matches en route to running his record for the year to 38-6. He started the day with a 9-2 win over eighth seeded Sam Deligio of Milwaukee School of Engineering and then whipped fourth seed Tom Laskowske of Elmhurst 7-1 in the semi-finals. In the championship match he beat second seeded Ben Presler of Concordia-Moorehead 3-1.
Graham earned his NCAA ticket the hard way. He started the day as the fourth seed and beat fifth seeded Jason Bonham of North Central 6-0. Then he ran into top seeded Matt Baarson of St. John's in the semi-finals and lost 5-0. That dumped him into the consolation bracket and he battled his way back. He beat second seeded Brandon Bahr of Augsburg 14-3 and then defeated seventh seed Ryan Renon of Lakeland 6-3 in the third place match.
Because Graham and runner-up Josef Waples of St. Olaf had not met and the top two finishers in each weight class get automatic berths into the NCAA tournament, Graham and Waples had to wrestle for "true second". In that match Waples beat Graham 4-3. That meant Graham had to be selected as to one of nine at-large berths after the tournament was over.
He was chosen and he will take a 32-13 record into the national tournament.
Augustana finished seventh in the team standings with 54 points. Augsburg won the regional with 153.5 points while St. John's was second with 125.5 and Concordia-Moorehead placed third with 124.
Besides Scholten and Graham, sophomore Alex Vavra (Gull Lake HS, Dowling, Mich.) and senior Tim Day (Wheaton-Warrenville South HS, Wheaton, Ill.) also placed. Vavra was fifth at 177 pounds and finished the year with a 35-16 record. Day was sixth at 285 and he ended with a 17-16 mark.