February 26, 2011
2010-11 Season - DeSimone, defense key title romp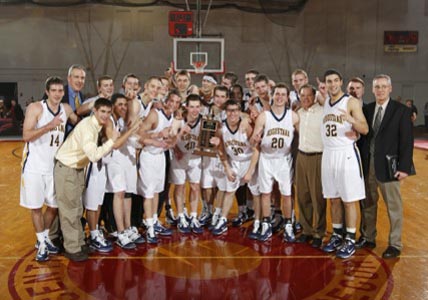 Augustana celebrates its 2011 College Conference of Illinois & Wisconsin tournament championship after defeating Illinois Wesleyan 76-52 in the championship game on Saturday, February 26 in Naperville, Illinois.
NAPERVILLE, Ill. - A combination of junior point guard Brian DeSimone's (Buffalo Grove HS, Wheeling, Ill.) scoring outburst and a smothering defense added up to a College Conference of Illinois & Wisconsin tournament championship. Augustana used both to good advantage in a convincing 76-52 win over Illinois Wesleyan on Saturday, February 26 at Merner Fieldhouse on the campus of North Central College in Naperville, Illinois.
DeSimone scored 10 straight points at the very end of the first half to break open a close game and the Vikings held the normally deadly Titans to just two of 15 from three point range. The win was a measure of revenge for Augustana, which lost to Illinois Wesleyan just four nights earlier in Bloomington, Illinois by a score of 70-68. That defeat cost the Vikings the outright league title and the host spot for the tournament.
There was little doubt about the outcome on Saturday night, especially after DeSimone's scoring flurry. Augustana led just 29-26 as the first half was winding down. With 2:17 to play he rebounded a missed Wesleyan shot and beat everybody down the floor for a layup to make it 31-26 (2:10). Then he stole the ball and scored another layup at 1:54 to bump the margin to 33-26. He wasn't through, however, as he nailed a three point field goal at 1:31 to build the lead to 10 points (36-26). He finished his own personal blitzkrieg with another three pointer, this one coming at 1:04 to swell the margin to 39-26.
Sean Johnson stopped the bleeding a bit for the Titans with a basket with :33 left to make it 39-28 but Brandon Kunz (Lake Zurich HS, Lake Zurich, Ill.) made sure the momentum stayed in the Augustana locker-room when he pushed in a tip-in as the halftime buzzer sounded.
DeSimone was the backbone of a 13-2 run that saw a two point edge (28-26) jump to 13 (41-28) in just 3:22. He scored his 10 points in a span of just 66 seconds.
The Vikings built the lead to 19 (49-30) early in the second half (17:21) but Wesleyan went on a 14-4 run and at 12:01 whittled the advantage to nine (53-44) following two free throws by Doug Sexauer. Augustana promptly scored the game's next 13 points and when senior Kyle Nelson (Deerfield HS, Deerfield, Ill.) rattled home a basket at 6:56, the margin was up to 22 points (66-44).
There was little doubt after that, except the final score. The lead ballooned to 27 (73-56) at 4:13 when Nelson sank a pair of free throws.
With 3:48 to play, the Titans' Victor Davis hit a three point field goal and at 3:15 Matt Schick followed with a three point basket. Those two long range baskets were significant because up until Davis nailed his three pointer, Illinois Wesleyan had missed all 11 of its attempts from beyond the arc. This from a team that hit 17 of 42 against the Vikings in the two regular season games and nailed 198 of 542 (.365) during the season.
On this night, however, open looks were hard to come by as Augustana forced its opponent to shot just .375 (18-48) from the floor, including .333 (8-24) in the second half. In the two CCIW tournament games, the Vikings held Wheaton and Illinois Wesleyan to a combined 11 of 41 (.268) in the final 20 minutes of each game.
DeSimone led the victors in scoring with 18 points and he also grabbed four rebounds, had three assists and four steals. He shot seven of 10 from the floor and was three of four from three point range. Nelson was also in double figures with 14 points and he had seven rebounds. A total of 12 players scored for Augustana.
For Augustana head coach Grey Giovanine, the CCIW's "Coach of the Year" for the fourth time in his career, it was his team's third conference tournament title, going along with trophies from 2007 and 2008. The Vikings have won five CCIW regular season championships (2003, 2006, 2007, 2008, 2011) as well during his tenure.
Augustana is now 24-3 overall while Illinois Wesleyan, which got 20 points from Sean Johnson, ends its season at 19-8.
Seniors Nelson, Mike Avallone (Neuqua Valley HS, Naperville, Ill.), Drew Croegaert (Geneseo HS, Geneseo, Ill.) and Bryant Voiles (Byron HS, Byron, Ill.) have now been a part of a class that has captured four CCIW titles. They have helped the Vikings win two regular season crowns (2007-08 and 2010-11) and a pair of tournament championships (2008 and 2011).