February 25, 2011
2010-11 Season - Rebounding and defense key semi-final win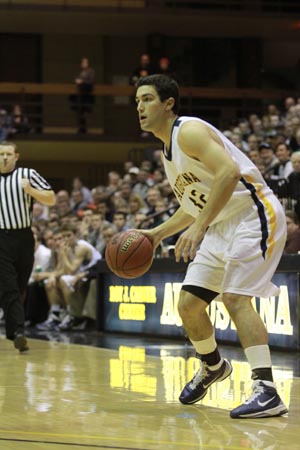 Mike Avallone's three point basket in the second half sparked a 10-0 run to help Augustana break open a close game en route to a convincing 73-58 win over Wheaton in the semi-final of the CCIW Tournament on Friday, February 25 in Naperville, Illinois.
NAPERVILLE, Ill. - A huge 45-28 advantage in the rebounding department and a solid second half proved to be the key factors as Augustana defeated Wheaton 73-58 in the semi-final of the College Conference of Illinois & Wisconsin men's basketball tournament. The Vikings will now face the winner of the North Central/Illinois Wesleyan semifinal for the CCIW tournament championship on Saturday, February 26 at Merner Fieldhouse on the campus of North Central College.
For veteran head coach Grey Giovanine, it was a return to basics that keyed the win, which snapped a two game losing streak. Augustana manhandled the Thunder on the boards and held Wheaton to just .321 (17-53) shooting from the floor.
The Vikings were in control early, leading 10-3 before the game reached the five minute mark. They maintained that edge and when Troy Rorer (Bettendorf HS, Bettendorf, Iowa) scored a layup after a steal with 1:30 remaining before intermission, led by 10 (33-23). However, Jeremy Pflederer nailed a three point basket at 1:14, Tim McCrary scored at :41 and Andrew Jahns nailed a three point basket at :09. That was an 8-0 run to close out the half and suddenly the lead was down to just two (33-31) at the break.
In the second half it was a four point game (41-37) with 13:37 left to play when Augustana went on a 10-0 run to break things wide open. Mike Avallone (Neuqua Valley HS, Naperville, Ill.) buried a three pointer at 12:48 to get things started. Drew Croegaert (Geneseo HS, Geneseo, Ill.) hit a single free throw at 11:53 to make it 45-37. Kameron Norton (Downers Grove North HS, Downers Grove, Ill.) muscled in a basket at 11:15 (45-37), Croegaert drilled a shot at 10:20 (49-37) and Bryant Voiles (Byron HS, Byron, Ill.) finished off the spurt with a basket at 9:23. That made it 51-37.
For all practical purposes the game was over as the lead never got smaller than 12 (55-43 at 6:58) the rest of the way. It grew as big as 17 (62-45 at 4:39) after a free throw by Brandon Kunz (Lake Zurich HS, Lake Zurich, Ill.).
Kyle Nelson (Deerfield HS, Deerfield, Ill.) led Augustana in scoring with 14 points and he also pulled down a game high nine rebounds. Chris Anderson (West Carroll HS, Mount Carroll, Ill.) was also in double figures with 11 points.
The Vikings shot .500 (26-52) from the field, including .520 (13-25) in the second half. They brought incredible defensive pressure on Wheaton, forcing the Thunder to hit just .240 (6-25) from the floor in the final 20 minutes, including 0-8 from three point range.
Augustana is now 23-3 on the season while Wheaton, which got 17 points from Andrew Jahns in a losing effort, ends its season at 18-8.
The Vikings won the CCIW tournament in 2007 and 2008 and are attempting to become the first three-time winner of the event, which only began in the 2005-06 season. Augustana is the only team in the CCIW to play in all six post-season tournaments.