February 24, 2011
2011 Season - Lamb's bat, Trotta's arm pave way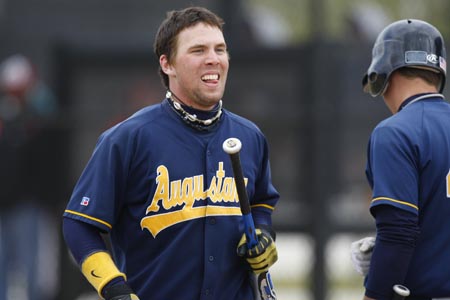 Senior Mike Lamb belted a three run triple in the fourth inning to break open a scoreless game as Augustana defeated Brandeis 7-3 in the 2011 season opener.
AUBURNDALE, Florida - A five run fourth inning and solid pitching by four hurlers helped lead Augustana to a 7-3 victory over Brandeis in the opening game for the Vikings of the 2011 season on Thursday, February 24. The game was played at Lake Myrtle's number one diamond in Auburndale, Florida.
Heading into the top of the fourth inning the game was scoreless when sophomore Jared McIntosh (Davenport Assumption HS, Davenport, Ill.) led off with a single. That was followed by a single off the bat of freshman Pat Wilson (Stevenson HS, Vernon Hills, Ill.), which moved McIntosh to second. Sophomore Joe Cecchi (Romeoville HS, Romeoville, Ill.) was hit by a pitch from Brandeis starter Dylan Britton to load the bases. Senior Mike Lamb (Ottawa HS, Ottawa, Ill.) then ripped one of Britton's offerings for a triple to drive in three runs.
The Vikings were not done yet, as senior T.J. O'Donnell walked and a balk by Britton scored Lamb and pushed O'Donnell over to second. After an out, junior Kevin Serna (Rolling Meadows HS, Arlington Heights, Ill.) was hit by a pitch. Sophomore Kurt Schmidt (Grayslake Central HS, Grayslake, Ill.) bounced into a fielder's choice with Serna out at second but O'Donnell advancing to third. With two out, the Judges made a pitching change and Mike Swerdloff replaced Britton. Dave Hoffman (Cary-Grove HS, Fox River Grove, Ill.) walked to load the bases and O'Donnell scored on a balk with McIntosh at the plate for the second time in the inning.
In the top of the fifth Lamb doubled home Cecchi, who had singled, with one out to make it 6-0. Lamb scored the seventh run of the game when junior Anthony Concialdi (Fremd HS, Barrington, Ill.) doubled.
Junior Mike Trotta (Niles Notre Dame HS, Chicago, Ill.) went six innings as the starter and was credited with the victory. He gave up nine hits and one run but struck out four and didn't walk a single batter. Senior Ray Homolka (Glenbard West HS, Wheaton, Ill.), junior Josiah Martin (Canton HS, Canton, Ill.) and senior Vince Frede (St. Charles East HS, St. Charles, Ill.) combined to finish the game. The Vikings did not issue a single base-on-balls in the game.
Lamb led the offense with two hits, two runs scored and four runs-batted-in. Wilson also added a pair of hits.
Brandeis actually outhit the Vikings 11-7 but the Judges stranded 10 runners. Augustana will play Grove City tomorrow (February 25) at 11:30 a.m. at Chain-of-Lakes Stadium in Winter Haven, Florida.