February 23, 2011
2010-11 Season - 3 Vikings named All-CCIW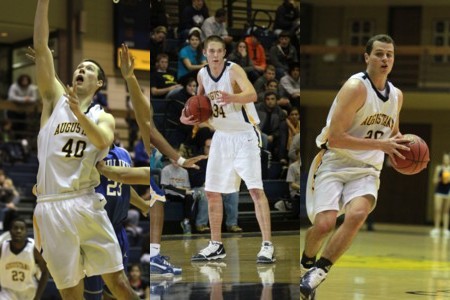 Kyle Nelson (L), Bryant Voiles (C) and Brian DeSimone (R) were first, second and third team All-CCIW honorees, respectively, the league announced today.
NAPERVILLE, Ill. - After earning a share of this year's CCIW championship, Augustana was rewarded with three players named to the league's all-conference team announced today. Kyle Nelson (Deerfield HS, Deerfield, Ill.) was a first team selection, while teammates Bryant Voiles (Byron HS, Byron, Ill.) and Brian DeSimone (Buffalo Grove HS, Wheeling, Ill.) earned second and third team honors, respectively. Viking head coach Grey Giovanine also garnered his fourth CCIW Coach of the Year award, sharing this year's honor with Todd Raridon of North Central.
Nelson, a 6-9 senior co-captain, was one of three unanimous picks and earned first team honors for the second year in a row. He leads the Vikings in scoring (14.1 ppg), rebounding (6.4 rpg) and field goal percentage (.533) as they prepare for this weekend's CCIW tournament in Naperville, Illinois. Nelson also has 47 assists and 23 steals this season.
The 6-9 Voiles is a senior and Viking co-captain along with Nelson. He's a junior eligibility-wise because of an injury that cost him almost all of last season. He's the team's second leading scorer and rebounder with averages of 12.4 points and 5.6 rebounds per game. He's the Vikings' top three-point shooter, having hit 47 of 116 (.405) and has 60 assists and a team-best 18 blocked shots as well.
DeSimone, a 6-1 junior point guard, runs the show for the 22-3, 6th-ranked Vikings. His 9.1 points per game are third on the team and he leads Augustana with 28 steals. He's tied for the team lead with 64 assists while having committed just 31 turnovers in 24 games. He's also second on the Vikings with 36 three-point field goals in 104 attempts (.346).
Giovanine, in his 12th season at Augustana, has now won five CCIW championships in the last nine years. Only four coaches in the league's history have won more titles. He'll also be looking for his third CCIW tournament championship this weekend and is the only coach with multiple conference tournament titles. His record at Augustana is 221-92 (.706) and 114-54 (.679) in conference play. His CCIW winning percentage is the fourth-highest in league history among coaches with at least 10 seasons.
Carthage senior guard Steve Djurickovic was named the league's Most Outstanding Player for second consecutive year.
2010-11 ALL-CCIW
FIRST TEAM
| | | | | |
| --- | --- | --- | --- | --- |
| Name | School | Pos. | Yr. | Hometown (High School) |
| Steve Djurickovic* | Carthage | G | Sr | Pleasant Prairie, Wis. (Kenosha-Bradford) |
| Landon Gamble | North Central | F | Fr | Joliet, Ill. (Lockport Township) |
| Tim McCrary* | Wheaton | F | Jr | Wilmette, Ill. (New Trier) |
| KYLE NELSON* | AUGUSTANA | F | SR | DEERFIELD, Ill. (H.S.) |
| Doug Sexauer | Illinois Wesleyan | F | Sr | Homer Glen, Ill. (Lockport Township) |
*Unanimous Selection

SECOND TEAM
| | | | | |
| --- | --- | --- | --- | --- |
| Name | School | Pos. | Yr. | Hometown (High School) |
| Andrew Jahns | Wheaton | G | Sr | Wheaton, Ill. (Wheaton North) |
| Sean Johnson | Illinois Wesleyan | G | Sr | Washington, Ill. (H.S.) |
| Malcom Kelly | Carthage | G | So | Kenosha, Wis. (Reuther) |
| Derek Raridon | North Central | G/F | So | Plainfield, Ill. (Neuqua Valley) |
| BRYANT VOILES | AUGUSTANA | F | JR | BYRON, Ill. (H.S.) |
THIRD TEAM
| | | | | |
| --- | --- | --- | --- | --- |
| Name | School | Pos. | Yr. | Hometown (High School) |
| Zack Boyd | Elmhurst | G | Jr | Warrensburg, Ill. (Warrensburg-Latham) |
| Emanuel Crosby | North Park | C | Jr | Chicago, Ill. (St. Rita) |
| BRIAN DeSIMONE | AUGUSTANA | G | JR | WHEELING, Ill. (BUFFALO GROVE) |
| Brian Evans | North Central | G | Sr | Carol Stream, Ill. (Glenbard North) |
| Kyle Taylor | Millikin | C | Sr | Bement, Ill. (H.S.) |
| Jordan Zimmer | Illinois Wesleyan | G | Jr | Delavan, Ill. (H.S.) |
2011 Fred Young Most Outstanding Player
Steve Djurickovic - Carthage

2011 CCIW Co-Coach of the Year
Grey Giovanine - Augustana & Todd Raridon - North Central