Alumnus Moreno wins Chicago seat
February  23, 2011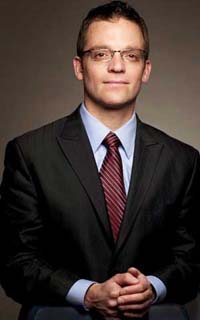 Ald. Joe Moreno
Proco "Joe" Moreno, a Moline native and Augustana alumnus who was appointed to the Chicago City Council last year was elected to another term Tuesday.
He has represented Chicago's 1st Ward since being chosen last year by Mayor Richard Daley to replace Ald. Manny Flores, who left to chair the Illinois Commerce Commission.
Moreno, 37, graduated from Augustana in 1994 with a degree in speech communication. He received an MBA from DePaul University in 2003. He has lived in the 1st Ward for 14 years and is vice president of Buhl Press, a printing company in Berkeley, Ill., west of Chicago.
Running against two candidates, he received almost 75 percent of the vote, according to The Dispatch and Rock Island Argus.
He was endorsed by the Chicago Tribune, which said:
"Moreno is quick to respond to service calls (such as graffiti removal) and has instituted a text alert system so residents don't get caught by surprise and ticketed when streets are cleaned. He has implemented a free trolley along Milwaukee Avenue. He also has a keen grasp of the city's fiscal crisis. He backs pension reform, including higher contributions and retirement age; a grid system for street cleaning and snow removal; privatizing recycling; and a tiered fee system for city stickers to raise revenue. He wants to consolidate inspections from numerous city departments to make it easier for small businesses to navigate Chicago's unwieldy regulatory morass."
The Tribune's editorial board interview with Moreno is available online.