February 22, 2011
2010-11 Season - Late basket denies Vikings outright title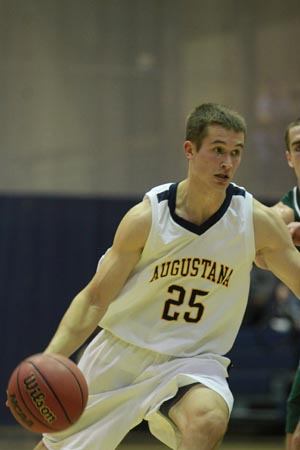 Chris Anderson scored 13 points to lead Augustana in a 70-68 loss at Illinois Wesleyan on Tuesday, February 22.
BLOOMINGTON, Ill. - Needing a victory on the road to clinch both an outright College Conference of Illinois & Wisconsin championship and the host spot in the upcoming conference tournament, Augustana came up just short on Tuesday, February 22. The Vikings dropped a 70-68 decision to Illinois Wesleyan at the Shirk Center in Bloomington, Illinois.
Doug Sexauer scored a basket with just one second left on the clock to break at 68-68 tie to give the Titans the victory.
Augustana trailed by 10 points (26-16) with 8:15 left in the first half before whittling away at the lead. A three point basket by Troy Rorer (Bettendorf HS, Bettendorf, Iowa) with just six seconds left before intermission cut the margin to three points (41-38) at halftime.
In the second half Illinois Wesleyan broke out quickly to a nine point lead (49-40) with 14:01 left. The Vikings finally tied the game at the 6:16 mark on a basket by Brandon Kunz (Lake Zurich HS, Lake Zurich, Ill.) to make it 58-58. The contest would be tied three more times before the final buzzer.
Just after he tied the game, Kunz put Augustana ahead 60-58 with a basket at 5:40. A Brian DeSimone (Buffalo Grove HS, Wheeling, Ill.) three pointer at 3:44 made it 63-60 in favor of the visitors. The last Augustana lead came with 2:16 left when Bryant Volies (Byron HS Byron, Ill.) drained a three pointer to make it 66-65.
Kyle Nelson (Deerfield HS, Deerfield, Ill.) scored with 1:47 left to tie the game at 68-68 and that was the last scoring until Sexauer's basket clinched it for the Titans.
Chris Anderson (West Carroll HS, Mt. Carroll, Ill.) had 13 points off the bench to lead Augustana in scoring and DeSimone was the only other player in double figures with 12 points. Nelson hauled in 10 rebounds as the Vikings held a 35-29 advantage in that department.
Sexauer led Illinois Wesleyan in scoring with 18 points while Jordan Zimmer dropped in 17.
Augustana is now 22-3 overall and 11-3 in the CCIW, finishing in a first place tie with North Central. The Cardinals will host the CCIW tournament by virtue of the third step in the tie-breaker procedure, which was record in final seven games. Augustana was 4-3 down the stretch while North Central was 6-1.
The Vikings will play Wheaton in the first round on Friday, February 25 at Merner Fieldhouse in Naperville, Illinois.