February 22, 2011
2010-11 Season - Vikings drop season finale at IWU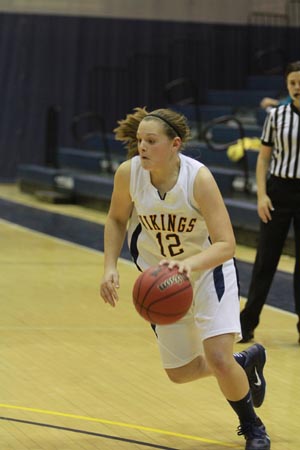 Molly Etheridge scored a game-high 18 points in Augustana's 71-39 loss at Illinois Wesleyan in the Vikings' season finale.
BLOOMINGTON, Ill. - Poor shooting and 23 turnovers proved too much to overcome on Tuesday, February 22 as Augustana dropped a College Conference of Illinois & Wisconsin contest to Illinois Wesleyan by a score of 71-39. It was the season finale for the Vikings, who finish the year with a 7-17 overall record and a 3-11 mark in the CCIW.
Augustana shot just .240 (12-50) from the field and committed 23 turnovers in the game. Illinois Wesleyan, the CCIW champion, had a commanding 34-13 lead at halftime and limited the Vikings to just .130 shooting from the field in the first half (3-23).
Freshman Molly Etheridge (Normal University HS, Bloomington, Ill.) led Augustana in scoring with 18 points on seven of 11 from the floor, including four of six from three point range. The only other Viking in double figures was senior Kristen Fox (Ottawa HS, Ottawa, Ill.) with 10 points.
Junior Elizabeth Phillips (Grayslake North HS, Lake Villa, Ill.) pulled down 10 rebounds as Augustana held a 46-35 advantage in rebounding. Whitney Miller (Clinton HS, Clinton, Iowa) had game high five assists.
Illinois Wesleyan was led in scoring by Melissa Gardiner with 17 points. The Titans, now 21-4 overall and 13-1 in the CCIW, shot .421 (24-57) from the field.