February 22, 2011
2011 Season - Baseball looking forward to starting season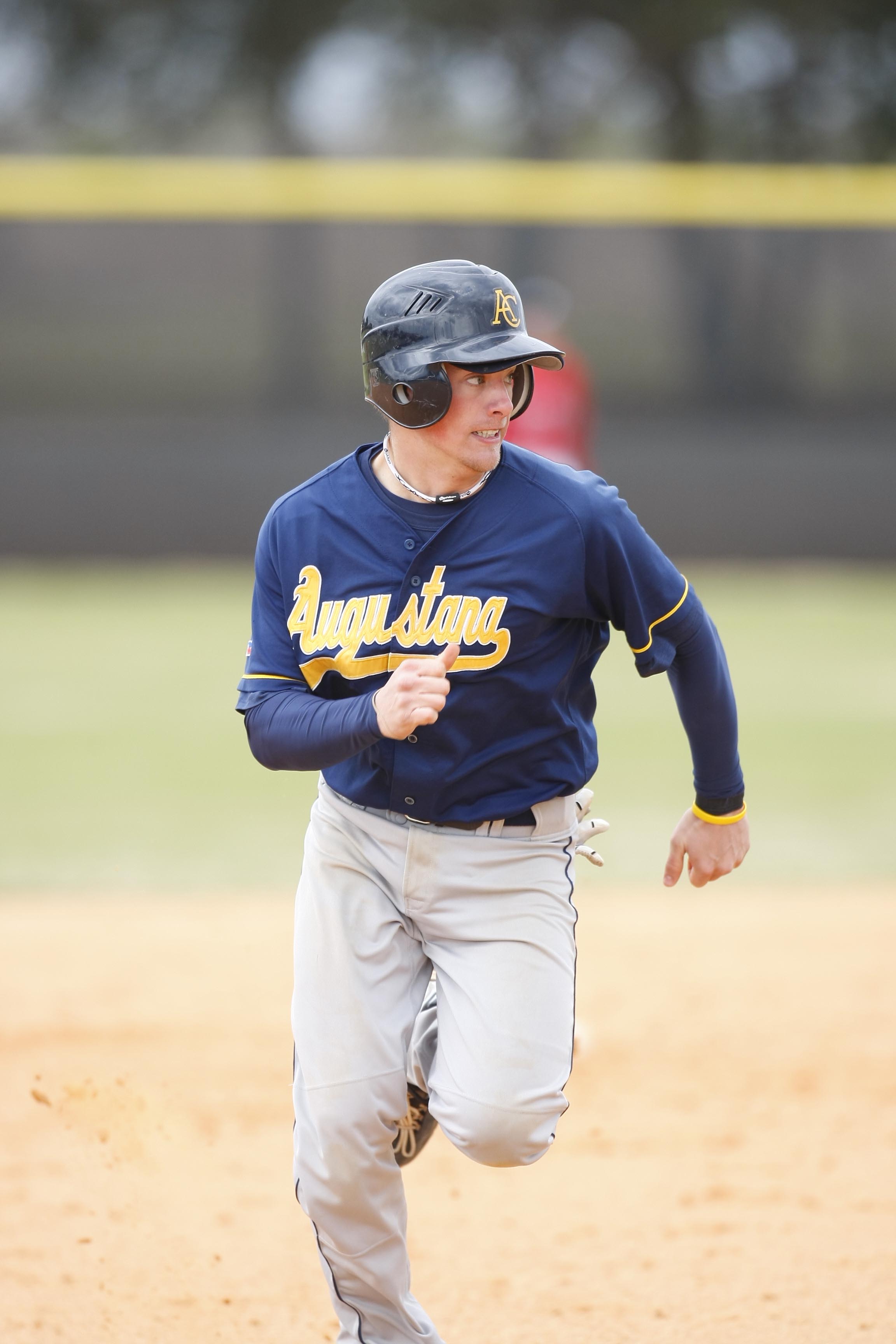 Senior Dave Hoffman was a first team all-conference and all-region honoree in 2010. He batted .424 and led the team in doubles (15) and RBI (37).
Last year the Augustana baseball team rolled out some youngsters in key positions during a 25-15 campaign. While there were understandably some growing pains that go with using younger players, veteran head coach Greg Wallace now figures that 2011 will show the rewards.
"We were very young last year," said Wallace who has fashioned an overall record of 381-177 (.683) in 13 years as the head coach at his alma mater. "Now I think the time is here where we will gain on last year's experience."
The Vikings are used to success in baseball as they have won 30 or more games seven times since Wallace took over in 1998. They have never failed to win less than 22 games in a single season over the last 13 years. Last year's 25-15 mark was achieved despite some injuries to what was supposed to be a veteran pitching staff, forcing some younger players into significant roles.
"We do need to stay away from injuries," said Wallace who has notched a collegiate coaching record of 459-226 that includes four years as the head coach at Frostburg State College. "We have been hit extremely hard the last two years. If we can keep our team healthy, I think we will be pretty good."
The pitching staff established some depth last year and that should translate into success in 2011. Six pitchers who logged at least 24 innings return. Junior Josiah Martin (Canton HS, Canton, Ill.) posted a 4-2 record with a 4.46 earned run average in 40 1/3 innings in 2010. Sophomore Jared McIntosh (Davenport Assumption HS, Davenport, Iowa) was 2-1 with a 4.41 ERA in 34 2/3 innings and junior Mike Trotta (Niles Notre Dame HS, Chicago, Ill.) went 2-1 with a 5.50 ERA in 37 2/3 innings. Junior John Peters (Rock Island Alleman HS, Milan, Ill.) took advantage of his opportunity and was 3-2 with a 4.78 ERA in 26 1/3 innings. Senior Ray Homolka (Glenbard West HS, Wheaton, Ill.) was 1-1 with a 4.91 ERA and worked 29 1/3 innings and sophomore Ben Heaton (Bloomington Central Catholic HS, Heyworth, Ill.) had a perfect 4-0 mark with a 2.22 ERA in 24 1/3 innings.
"We like the fact that we are deep in pitching in terms of the number of arms we run out there right now," said Wallace. "We will use the first part of the season to figure out who will emerge in terms of conference-type pitchers."
Senior Vince Frede (St. Charles East HS, St. Charles, Ill.) is coming back from an arm injury suffered his sophomore year and sophomore Joe Cecchi (Romeoville HS, Romeoville, Ill.) could see some time on the mound after being a starting infielder in 2010.
Senior T.J. O'Donnell (New Trier HS, Northbrook, Ill.), sophomore Jim Sandberg (J.K. Mullen HS, Littleton, Colo.) and freshman Niko Capodice (Minooka HS, Minooka, Ill.) will battle for the starting catcher's position. O'Donnell played in 30 games last year and batted .215 with four doubles, two triples and a home run. Sandberg played in six games last spring and had seven hits in 16 at-bats.
The infield will be anchored by four year starter Dave Hoffman (Cary-Grove HS, Fox River Grove, Ill.) at second base. He was a first team all-conference and all region performer last year when he batted .424 with 72 hits in 170 at-bats with 15 doubles and 37 runs-batted-in. He is currently seventh on the school's all-time list for career doubles with 34 and ninth in hits with 166. Freshman Pat Wilson (Stevenson HS, Vernon Hills, Ill.) will handle the first base duties.
Sophomores Kurt Schmidt (Grayslake Central HS, Grayslake, Ill.) and Cecchi will be on the left side with Schmidt at shortstop and Cecchi at third base. Schmidt was a second team all-conference performer last year and he batted .364 with 60 hits in 165 at-bats while leading the team in runs scored with 45. Cecchi hit .326 with 30 hits in 92 at-bats.
In the outfield senior Mike Lamb (Ottawa HS, Ottawa, Ill.), juniors Kevin Serna (Rolling Meadows HS, Arlington Heights, Ill.) and Anthony Concialdi (Fremd HS, Barrington, Ill.) and sophomores McIntosh and Tyler Bernal (LaSalle-Peru HS, Peru, Ill.) will be battling for playing time. Lamb started 28 games last year and hit .228 while Serna hit .352 with a team high nine stolen bases. McIntosh shrugged off a slow start to finish with a .317 average that included eight doubles. Bernal and Concialdi combined to play in 19 games in 2010.
"We think this could be a pretty good defensive team," said Wallace. "I think our team was disappointed last year and if 25-15 is a down year then the expectations are certainly in the right place."