February 21, 2011
2010-11 Season - Fox wins CCIW "Player of the Week"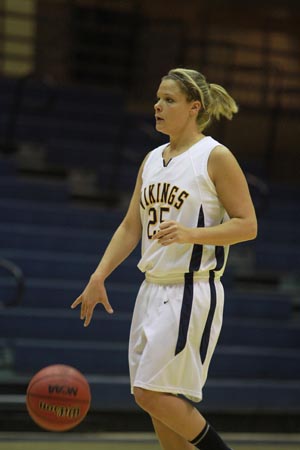 Senior guard Kristen Fox was named "Player of the Week" in the CCIW.
Augustana senior guard Kristen Fox (Ottawa HS, Ottawa, Ill.) has been named the "Player of the Week" in the College Conference of Illinois & Wisconsin. Fox had a tremendous night in the Vikings 77-65 victory over North Central on Saturday, February 19 in Naperville, Illinois.
She scored a career high 34 points and grabbed a game high 13 rebounds in the victory. She was 11 of 22 from the field, including five three pointers. Fox also hit seven of eight from the free throw line and had a steal while playing 37 minutes.
Fox is the leading scorer for the Vikings with a 14.2 average. She has scored 341 points in 24 games, all as a starter. She is also the leading rebounder with a 7.1 per game average (171 rebounds in 24 games). She has 31 assists, two blocked shots and 35 steals. She is also hitting at a .729 clip from the free throw line.
The daughter of Don and Kathy Fox of Ottawa, Illinois, Kristen is a finance and economics major.
Augustana is currently 7-17 overall and 3-10 in the CCIW and will finish the season on Tuesday, February 22 with a game in Bloomington, Illinois against league champion Illinois Wesleyan.