February 19, 2011
2010-11 Season - Reppy, Johannsen honored at CCIW meet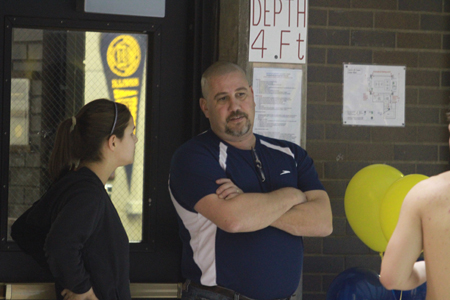 Viking head coach Scott Johannsen has been named the 2011 CCIW men's Coach of the Year.
WHEATON, Ill. - Augustana freshman Justin Reppy (Oswego HS, Oswego, Ill.) was named co-Swimmer of the Meet at the CCIW Championships Saturday. In addition, Viking head coach Scott Johannsen was named men's "Coach of the Year." Reppy captured the 1650-yard freestyle in a school-record time of 16:15.63, helping the Vikings to a fifth-place team finish. Carthage claimed the team title.
Reppy's third win in as many days earned him a share of "Swimmer of the Meet" honors with Marcus Duval of Illinois Wesleyan. His 1650 freestyle time shattered the previous school record of 16:59.10 set by Rob Sarussi in 1981.
Sophomore Chris Greaves (Morris HS, Morris, Ill.) finished seventh in the 200 butterfly with a time of 2:06.15 and 13th in the 200-yard backstroke, finishing in 2:02.57.
Viking freshman Austin Zarbuck (Urbana HS, Urbana, Ill.) was eighth in the 1650 freestyle with a time of 17:09.91. Freshman Daniel Hinck (Harlem HS, Loves Park, Ill.) swam a :48.35 to finish 11th in the 100-yard freestyle, while junior Charles Vogt (Oak Park River Forest HS, Oak Park, Ill.) was 16th in :50.75.
The Augustana 400-yard freestyle relay team of Zarbuck, senior Kennan Hootman (Addison Trail HS, Addison, Ill.), freshman Jason Hengst (Bettendorf HS, Bettendorf, Ill.) and junior Denny Wind (Downers Grove North HS, Downers Grove, Ill.) finished 11th with a 3:44.02 clocking.