February 19, 2011
2010-11 Season - Vikings fall in attempt to clinch outright title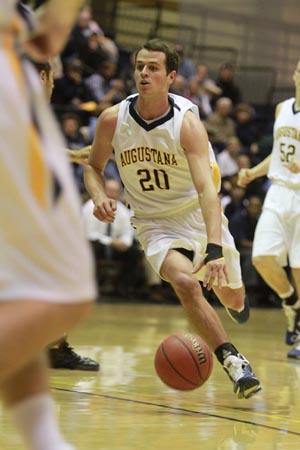 Brian DeSimone had four assists, four rebounds and scored seven points in Augustana's 50-46 loss at North Central on Saturday, February 19.
NAPERVILLE, Ill. - Augustana's attempt to claim the outright championship in the College Conference of Illinois & Wisconsin will have to wait until Tuesday. The Vikings dropped a hard-fought 50-46 decision to North Central in venerable Merner Fieldhouse on Saturday, February 19.
Augustana, ranked fifth in NCAA Division III, is now 22-2 overall and 11-2 in the CCIW while North Central is 15-10 and 11-3 in league play. The Vikings will head to Bloomington, Illinois on Tuesday, February 22 needing a win over the Titans to clinch the outright championship and secure a host spot in the CCIW tournament on Friday, February 25 and Saturday, February 26. A loss at Wesleyan will create a co-championship between Augustana and North Central and the Cardinals win the tie-breaker to host the conference tournament.
A low scoring first half saw the Vikings take a 21-16 advantage into the locker room but the Cardinals went on a 7-2 run to tied the game at 23-23 in the early going. Eventually, North Central would string together a 22-9 run from the 16:15 mark until just 5:02 remained. That is when the Cardinals' Derek Raridon hit a three pointer to give the home team a 45-34 advantage.
Augustana closed the game on a 12-5 spurt and actually cut the margin to a single point (45-44) at 2:23 after a free throw by Bryant Voiles (Byron HS, Byron, Ill.). Down the stretch two crucial turnovers in the final minute proved costly.
Kevin Gillespie hit two free throws with just seven seconds left to provide the final margin and ice the game for North Central.
Voiles led the Vikings with 11 points while Kyle Nelson (Deerfield HS, Deerfield, Ill.) had 10. No other Augustana player was in double figures. North Central had just one player in double digits and that was Landon Gamble with 16.
North Central outrebounded the Vikings 36-33 with Nelson leading the way for Augustana with seven.
Brian DeSimone (Buffalo Grove HS, Wheeling, Ill.) had four assists and seven points while grabbing four rebounds. Augustana shot just .327 (16-49) from the field and was just .267 (4-15) from behind the arc. North Central hit on just .304 (7-23) from the field in the first half but picked it up in the second half to the tune of .462 (12-26).