February 19, 2011
2010-11 Season - Fox hits for 34 in win at North Central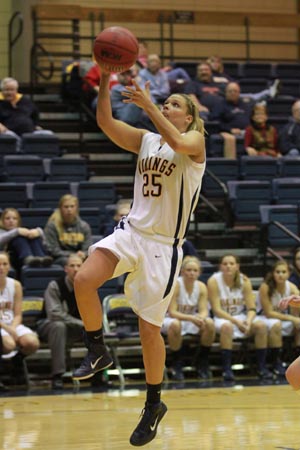 Senior Kristen Fox scored a career high 34 points as Augustana defeated North Central 77-65 in CCIW action on Saturday night in Naperville, Illinois. Fox also hauled in 13 rebounds.
Senior Kristen Fox (Ottawa HS, Ottawa, Ill.) poured in a career high 34 points to help lead Augustana to a 77-65 College Conference of Illinois & Wisconsin victory over North Central on Saturday, February 19. Fox was all over Merner Fieldhouse on Saturday night, connecting on 11 of 22 shots from the field, including five three point attempts, and hitting seven of eight from the free throw line. For good measure she hauled in 13 rebounds, had a steal and played 37 minutes.
The win was the second consecutive road win for the Vikings and the third in league play this season.
Augustana led 33-32 at halftime and early in the second half North Central went on a 9-3 run to take a five point lead (41-36) with 16:51 left. Fox then scored six straight points to put the Vikings ahead 43-41 with 15:36 to play. They eventually completed a 13-0 run and led 49-41 with 14:09 to play after a basket by Whitney Miller (Clinton HS, Clinton, Iowa).
North Central eventually tied the game 59-59 with 6:53 to play on a basket by Jackie Errico. The Cardinals took their final lead of the night at 6:10 when Helen Muleya hit a three point basket to make it 62-59. Fox scored at 5:49 to make it 62-61 and Molly Etheridge (Normal Community HS, Bloomington, Ill.) tallied at 4:55 to put Augustana ahead 63-62.
From the time North Central led 62-59 at 6:10 until the end of the game, the Vikings outscored the Cardinals 18-3 to win going away. Fox scored 10 of those 18 points.
Augustana enjoyed a huge 46-35 rebounding edge with Fox leading the way with 13. Etheridge pulled down six and Brianna Skeens (Vernon Hills HS, Vernon Hills, Ill.) had five. The Vikings shot .405 (26-72) from the floor but hit at a .773 (17-22) clip from the free throw line. Perhaps the most important statistic of the night was the fact that Augustana had just eight turnovers.
Etheridge scored 16 points and Miller added 12. Miller also led the team in assists with 12. Kristin Warnken (Centaurus HS, Erie, Colo.) had three steals.
Christine Karl led North Central in scoring with 17 and Errico had a game high 11 rebounds.
Augustana is now 7-17 overall and 3-10 in the CCIW while North Central fell to 8-17 and 4-10. The Vikings end the 2010-11 season on Tuesday, February 22 with a game against Illinois Wesleyan in Bloomington, Illinois.