February 18, 2011
2010-11 Season - Women fourth after CCIW day two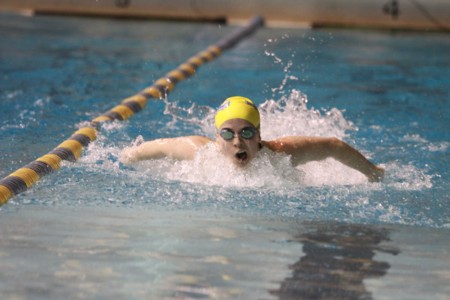 Augustana sophomore Emma Regnier swam on the Vikings' fourth-place 800 freestyle and fifth-place 200 medley relays Friday at the CCIW Championships in Wheaton, Ill. She also finished 16th in the 100-yard butterfly.
WHEATON, Ill.-Augustana's 800-yard freestyle relay team earned a fourth-place finish Friday to help the Vikings maintain their hold on fourth place after day two at the CCIW Championships. Molly Clennon (Benet Academy, Naperville, Ill.), Hillary Ferguson (Waubonsie Valley HS, Naperville, Ill.), Mary Naughton (Fremont HS, Fremont, Neb.) and Emma Regnier (Grayslake North HS, Lake Villa, Ill.) combined to swim an 8:24.55, the highest finish of the day for Augustana.
Hollyann Kabbe (Fenton HS, Bensenville, Ill.), Clennon, Regnier and Ferguson teamed up to finished the 200-yard medley relay in 1:58.21 and claim a fifth-place finish.
Individually, Clennon's 12th-place 2:01.40 in the 200 freestyle was the Vikings top finish. Elizabeth O'Hara (Westosha Central HS, Salem, Wis.) swam a 1:15.49 to take 13th in the 100-yard breaststroke, while teammate Alexandra Piper (Coal City HS, Coal City, Ill.) was 15th in 1:18.41.
Kabbe finished 15th in the 100-yard backstroke with a time of 1:09.48, while Colleen Mans (Robbinsdale Cooper HS, New Hope, Minn.) swam a 1:10.71 to finish 16th.
Regnier and Timmons each earned 16th-place individual finishes as well, with Regnier completing the 100 butterfly in 1:03.93 and Timmons swimming a 5:11.65 in the 400 individual medley.
The championships wrap up on Saturday with prelims at 10:30 a.m. and finals at 6:00 p.m.