February 18, 2011
2010-11 Season - Viking men fifth after day two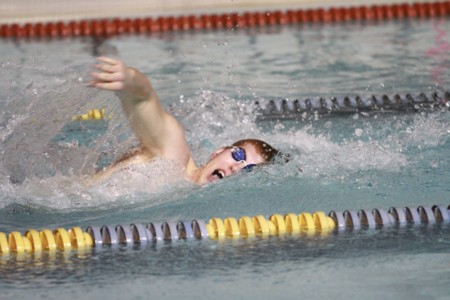 Viking freshman Justin Reppy claimed his second individual title Friday at the CCIW Championships in Wheaton, Ill. Reppy swam a 1:44.15 to win the 200 freestyle. He won the 500 freestyle on Thursday, setting a school record in the process.
WHEATON, Ill.-Augustana freshman Justin Reppy (Oswego HS, Oswego, Ill.) won his second individual title Friday and the Viking men held on to fifth place in the team standings after day two of the CCIW Championships. Reppy won the 200 freestyle in a time of 1:44.15. His time was a new school record, taking down the previous mark of 1:44.23 set by Wade Mathis in 1984.
Also in the 200 freestyle, Daniel Hinck (Harlem HS, Loves Park, Ill.) was eighth with a time of 1:47.22, Chris Greaves (Morris HS, Morris, Ill.) was 15th in 1:49.05 and Austin Zarbuck (Urbana HS, Urbana, Ill.) 16th in 1:50.26.
In relay events, Hinck, Greaves, Zarbuck and Reppy were fourth in the 800-yard freestyle relay, finishing in 7:05.28. That is a new school record, breaking the old mark of 7:08.90 set in 1984 by the team of Rick Miller, Bob Sarussi, John Triner and Mathis.
Zarbuck, Ryan Chaney (Pleasant Valley HS, Bettendorf, Iowa), Denny Wind (Downers Grove North HS, Downers Grove, Ill.) and Charles Vogt (Oak Park River Forest HS, Oak Park, Ill.) were seventh in the 200-yard medley relay with a time of 1:50.06.
Chaney also finished 16th individually in the 100-yard breaststroke, swimming a 1:06.37.
The championships wrap up on Saturday with prelims at 10:30 a.m. and finals at 6:00 p.m.