February 17, 2011
2010-11 Season - Vikings fourth after first day at CCIW meet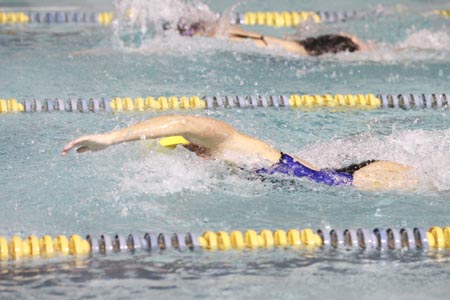 Alex Piper swam the leadoff leg on the fifth place 200 freestyle relay (1:41.79) and the anchor on the sixth place 400 medley relay (4:27.15) at the first day of the CCIW championship on Thursday, February 17.
After the first day of competition in the College Conference of Illinois & Wisconsin women's swimming and diving championship Augustana is in fourth place with 148 points. The Vikings trail Illinois Wesleyan (271), Wheaton (247), Carthage (242) in the meet, which is being held on February 17-19 at Wheaton College in Wheaton, Illinois. North Central (92), Millikin (74) and Rose-Hulman (71) round out the field.
The 200 freestyle relay team of sophomore Alexandra Piper (Coal City HS, Coal City, Ill.), sophomore Molly Clennon (Benet Academy, Naperville, Ill.), sophomore Mary Naughton (Fremont HS, Fremont, Neb.) and freshman Hillary Ferguson (Waubonsie Valley HS, Naperville, Ill.) had the best finish of the day for the Vikings. That unit placed fifth with a time of 1:41.79.
The 400 medley relay team of junior Colleen Mans (Robbinsdale Cooper HS, New Hope, Minn.), sophomore Emily Timmons (West Aurora HS, North Aurora, Ill.), sophomore Emma Regnier (West Aurora HS, North Aurora, Ill.) and Piper took sixth in 4:27.15.
Regnier finished 12th in the 200 individual medley in 2:19.59. Ferguson placed 13th in the 50 freestyle in :25.07 and Clennon was 13th in the 500 freestyle in 5:27.09.