February 17, 2011
2011 Season - Augustana gets dual meet win over St. Ambrose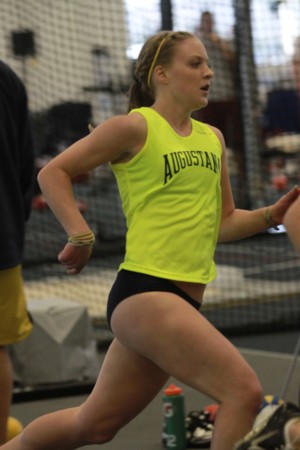 Sarahbeth Jones ran a 2:23.78 to win the 800 in Thursday's dual meet win over St. Ambrose.
ROCK ISLAND, Ill.-Sarahbeth Jones (Warren Township HS, Wadsworth, Ill.), who ran a 2:23.78 in the 800, was one of 10 individual winners for Augustana in Thursday's home dual meet versus St. Ambrose. The Vikings also won both relay events to earn a 112-90 win over the Bees.
Augustana swept spots one through three in the 200, mile and pole vault. Valerie Bach (Palatine HS, Palatine, Ill.) won the 200 in :28.01, followed by teammates Kierra Smith (Creston HS, Creston, Iowa) and Catherine Foreman (St. Joseph-Ogden HS, St. Joseph, Ill.), who ran :28.11 and 28:42, respectively. Annie Heifner's (Oregon HS, Oregon, Wis.) 5:33.08 won the mile, followed by Kelsey Stockert's (Peoria Notre Dame HS, Mapleton, Ill.) 5:40.38 and Theresa Coverick's (Stagg HS, Palos Park, Ill.) 5:49.93. Freshman Taelar Hillyer (Rock Island Alleman HS, Bettendorf, Iowa) cleared 10' 9" to take the pole vault, while Ella Mathieson (Lyons Township HS, LaGrange, Ill.) was second, going 9' 3". Viking Taylor Tjardes (Gibson City/Melvin-Sibley HS, Gibson City, Ill.) finished third with a vault of 8' 9".
Mathieson was a winner in the triple jump with a season-best leap of 36' 8¼".
Amy Walsh (Cary-Grove HS, Cary, Ill.) (:45.41) and Johanna Schnitzler (Downers Grove South HS, Woodridge, Ill.) (:45.55) finished first and second in the 300, as did Angela Pisani (York HS, Elmhurst, Ill.) (11:41.45) and Emma Grandgeorge (Sycamore HS, Sycamore, Ill.) (11:45.46) at 3000 meters and Kirstillyn Pohlman (Zion Benton HS, Winthrop Harbor, Ill.) (1:02.63) and Meaghan Reaney (Lincoln-Way Central HS, New Lenox, Ill.) (1:03.73) in the 400.
Hannah Hottle (Monmouth-Roseville HS, Monmouth, Ill.) won the 1000 in a time of 3:02.98, while teammate Brittany Prazak (Naperville North HS, Naperville, Ill.) was third in 3:18.06. In the 2000, it was Tara Bistry (Joliet Catholic HS, Shorewood, Ill.) winning in a time of 7:10.40 and Sarah Johnson (Grayslake North HS, Lake Villa, Ill.) finishing third in 7:22.92.
Smith and Walsh were second and third in the 55-meter hurdles. Smith recorded a :09.08 clocking and Walsh ran a :09.35. Likewise, Rachael Latham (Burlington Central HS, Elgin, Ill.) and Jennifer Prazak (Naperville North HS, Naperville, Ill.) were second and third at 600 meters. Latham finished in 1:47.77 and Prazak ran a 1:48.18. In the high jump, it was Schnitzler clearing a second-place 4' 9¾" while Lauren Schneiderbauer (Sterling HS, Sterling, Ill.) was third with a leap of 4' 7¾".
Freshman Liana Beauchamp (Genoa-Kingston HS, Kingston, Ill.) was second in the shot put (36' 4¼") and third in the 20-pound weight throw (41' 2¼"). Bethany Siwek (Woodstock HS, Woodstock, Ill.) (33' 4½") was fourth in the shot while Amber Gruber (Rolling Meadows HS, Arlington Heights, Ill.) (40' 11½") was fourth in the weight throw.
Brittney Bennett (Annawan HS, Annawan, Ill.) finished third in the 55 with a time of :07.78, one spot ahead of Mathieson, who ran a :07.85. Samantha Bazely's (Alleman HS, Coal Valley, Ill.) leap of 15' 1½" was good for third in the long jump.
The Vikings also picked up wins in the 4x400 and 4x800 relays. The 1600 team (Bennett, Walsh, Jones and Hottle) ran a 4:07.82, while the 3200 unit (Reaney, Brittany Prazak, Stockert and Pohlman) finished in 10:17.38.
Next up for the Viking women are the CCIW Championships to be held on Friday and Saturday, February 25 & 26 in Bloomington, Illinois. Starting times are scheduled for noon on Friday and 10:30 a.m. on Saturday.