February 17, 2011
2011 Season - Stake leads Vikings versus St. Ambrose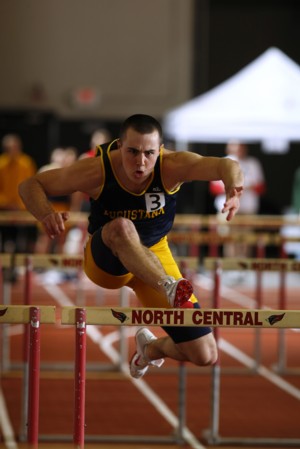 Senior Alex Stake won the pole vault and 55 meter hurdles Thursday in Augustana's dual meet versus St. Ambrose.
ROCK ISLAND, Ill.-Alex Stake (Williamsville HS, Sherman, Ill.) won two events Thursday, including clearing a season-best 14' 9" in the pole vault to lead Augustana in a home dual meet versus St. Ambrose. Despite Stake's efforts, the Bees edged the Vikings in the team score, 65-63.
Stake's 14' 9" in the pole vault was an Augustana season best and bettered teammates Alex Mikos (Fenton HS, Wood Dale, Ill.) and Erik Hansen (Geneva HS, Geneva, Ill.), who each cleared 13' 9" and finished second and third, respectively. Stake also won the 55-meter hurdles, finishing in :08.34. Vikings Don Anciaux (Iowa City HS, Iowa City, Iowa) and Matt Deets (Polo Community HS, Polo, Ill.) were second and third in :08.56 and :08.77.
Deets was a winner as well, going 19' 7" in the long jump to finish ahead of teammates Ryan Williams (Lockport HS, Homer Glen, Ill.) (18' 6") and Joshua Eisenberg (Richmond-Burton HS, Spring Grove, Ill.) (18' 5¾"). Eisenberg won the high jump with a leap of 5' 1¾". Will Lardner (Mundelein HS, Mundelein, Ill.) cleared the same height, finishing third.
Jacob O'Rourke (Assumption HS, Bettendorf, Iowa) ran a :06.79 to win the 55, while Williams was third in :07.22.
John Burch (Sandburg HS, Orland Park, Ill.) and Alexander Stockwell (Glenbard West HS, Glen Ellyn, Ill.) also won events for Augustana. Burch took the 3000 in a time of 10:30.98, while Stockwell ran a 4:44.51 to win the mile. Viking Jake Adams (Stagg HS, Palos Heights, Ill.) finished third in 4:45.71.
Viking freshman Szymon Ligas (St. Bede Academy, Spring Valley, Ill.) finished second in the 600, finishing in 1:32.45. Ryan McAuliffe (Pecatonica HS, Pecatonica, Ill.) and Dan Halleck (Naperville Central HS, Naperville, Ill.) were third and fourth in the 400, running :57.30 and :58.43, respectively, and George Papandreou (Waukegan HS, Waukegan, Ill.) and Pat Hoefle each scored with fourth-place finishes. Papandreou put the shot 38' 2" and Hoefle (Lena-Winslow HS, Lena, Ill.) recorded a 44' 2" heave in the 35-pound weight throw.
On Saturday, the Vikings will be competing in the Dubuque Open in Dubuque, Iowa. Starting time is scheduled for 1:00 p.m.