February 17, 2011
2010-11 Season - Reppy sets school record in win at CCIW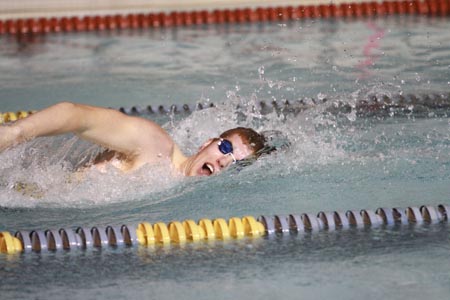 Freshman Justin Reppy won the 500 freestyle in the CCIW championship on Thursday, February 17. He broke the school record and is Augustana's first individual winner since 2002.
Freshman Justin Reppy (Oswego HS, Oswego, Ill.) set a new school record and became Augustana's first individual champion since 2002 on the first day of the College Conference of Illinois & Wisconsin swimming & diving championships. The CCIW meet at Wheaton College started on Thursday, February 17 and Reppy was ready to go.
He won the 500 freestyle in a time of 4:40.40, breaking the existing Augustana school record of 4:51.93 set by Rob Narske in 1992. Reppy is the first Augustana men's swimmer to win an individual title since 2002 when Matt Simcock won the 50 freestyle.
Freshman Daniel Hinck (Harlem HS, Loves Park, Ill.) placed sixth in the 500 freestyle in 4:50.37, also under Narske's school record and freshman Austin Zarbuck (Urbana HS, Urbana, Ill.) took eighth in 4:53.24.
The 200 freestyle relay team of sophomore Chris Greaves (Morris HS, Morris, Ill.), junior Charles Vogt (Oak Park-River Forest HS, Oak Park, Ill.), Reppy and Hinck took fifth in a time of 1:28.35. The 400 medley relay unit of Greaves, Jasen Hengst (Bettendorf HS, Bettendorf, Iowa), Reppy and Hinck finished fifth in 3:45.04.
Augustana is currently in fifth place in the team standings with 98 points.