February 2011
Jeff and Brett vs. the Blizzard
We often remember the worst snowstorms for keeping us away from campus. But for some employees, the blizzards and ice storms mean longer hours so the rest of us can make it back safely. This is the case for Jeff Delitt and Brett Stabler of Augustana's grounds crew, who spent 36 hours working to remove snow during the astounding February snowstorm that dropped 17 inches overnight.
These two form the tractor team: Brett on a John Deere and Jeff on a Bobcat. "At one point, the snow was so thick we couldn't see each other from the far corner of Sorensen to the intersection at 38th street," Brett recalls. Jeff adds, "Well, all I could see was the flashing beam of his tractor."
During a blizzard as bad as this one, Jeff and Brett have to plow the same areas over and over again, before the snow piles too deep for their tractors to handle. But the biggest problem wasn't the snow this time. "Then it rained, and then it froze," says Brett. "That's even harder to get rid of."
What are the worst spots on campus? Sorensen parking lot, which doesn't drain well, and of course the 38th street hill—where no matter how many snow route signs are posted, people will park their cars along the sidewalks. "We were out there at 2 a.m., plowing and shoveling," Jeff admits. "There are eight of us total, including four with shovels and two with plows. Together I think we do a pretty good job keeping things clear."
Brett has worked on the Augustana grounds crew since 2003, and Jeff since 2005. They name winter as the most difficult season by far. "Leaves are a big job, too, but not pressing," Jeff says. "People don't slip and fall on the leaves."
Planting ideas for spring
Contributing to a second Rock Island community garden, growing more fruit and vegetable choices at Augie Acres and developing an e-commerce website are just some of the ideas popping up to advance Augustana's sustainability efforts this spring.
"What we're doing continues to expand," says Garry Griffith of dining services. "It is neat for the students, who have no prior farming experience, to see how their work impacts others and how local foods influence our community."
The greener campus movement started several years ago, with dining services' Farm2Fork program and Augie Acres, a student-run garden, which grew out of a learning community taught by Jason Peters and Charlie Mahaffey.
Moselle Singh, a sophomore from LeClaire, Iowa, sees her interest in Farm2Fork as a way to really get involved in the issues talked about in Augustana classes and nationwide. "This whole 'going green' movement is about more than carrying around reusable bags and advertising our own sustainability efforts—it is about really getting out there and learning how to live by the words we speak."
Students, faculty and staff have an opportunity to live out this movement by helping Augie Acres on planting day in April. The seeds are ordered, and the group already has plants growing in the Hanson Hall of Science's greenhouse. Augie Acres also will focus on growing more items that are marketable, like green peppers, cucumbers and tomatoes, and taking the produce beyond campus to a Quad-Cities farmers market.
Field Notes
Field Notes illustrates different kinds of experiential learning that take us places off campus. For this issue, Marsha Smith of sociology asked some students from the fall East Asia term to send photos and quotes from an assignment that sent them into various neighborhoods in Tokyo.
Tokyo, with a population of over 12 million, is the largest city in Japan and one of the largest in the world. For students, it can be a little overwhelming with its fast-paced lifestyle and complicated transportation systems. So to encourage students to move beyond Tokyo Tower or Tsukiji fish market, we created an ethnographic assignment that placed groups of students together to explore an assigned neighborhood to discover what was unique about it. Here are a few photos and comments from our students.
From the Cabinet
Ellen Hay, Interim Dean of the College
Some of you may remember the educational reform movement of the 1980s. What started with a focus on K-12 education in the publication of A Nation At Risk quickly spread to higher education. Bloom's The Closing of the American Mind and Sykes's Prof Scam were popular bestsellers that reflected sentiments expressed in more mundane reports by a variety of professional organizations and private foundations. One of the consistent messages throughout these critiques was that we needed to know more about what students were learning in college, and we needed to assess the outcomes of the education we offered.
Fast-forward 25 years and we see the results of these reform efforts. We have developed more sophisticated strategies for measuring what students learn (or don't learn). We have become more proficient at monitoring the impact of the complex, dynamic endeavor that is a college education. This doesn't mean we have all the answers yet, but we are coming to better understand some of the factors that promote learning and growth. Arum and Roksa's Academically Adrift: Limited Learning on College Campuses reports outcomes from one portion of one measure, the Collegiate Learning Assessment (CLA). It provides a snapshot.
Here at Augustana, we administered the same CLA performance task to our students in 2005-06 and then again in 2009. Our results were well above the average. When adjusted for academic ability, our students' gain from first to senior year showed significant increases. In 2009, Augustana ranked in the 91st percentile for all institutions that have used the CLA.
As a whole, selective liberal arts colleges produce more learning. Researchers Arum, Roksa and Cho noted in a follow-up report that in such colleges three factors contributed to student learning: students expect more of each other, they read and write more, and they interact more with faculty.
We can feel very good about how our students did on one portion of the CLA—the same used by the researchers for Academically Adrift. It is a snapshot, but it is not the complete picture. We need to continue gathering information from many different sources and use that information so that we consistently offer our students the opportunities that help them grow and develop as thoughtful, responsible, educated individuals.
New Face on Campus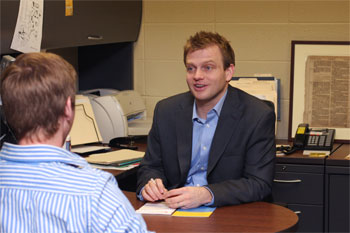 Ryan White, Director of the Center for Vocational Reflection
B.S., religious education, music, Grace Bible College
Graduate Certificate in Coaching, Michigan State
M.Div., Fuller Theological Seminary
Ed.D., educational psychology, University of Southern California
On paper, Ryan White seems like the kind of a person who should work at a Center for Vocational Reflection. Childhood in a farming community, undergrad at a small Christian college, seminary, doctorate in educational psychology...it's a great combination for the Augie community. He might be new to the CVR, but he's no stranger to helping students reflect on vocation. "Really, this is the job I've been trying to do with my last three jobs," he says. "The idea of vocation is at the center of my passions and background."
What Ryan's résumé won't reveal is how his own vocation almost took a radical turn—toward stardom. He and his wife, Heidi, were living in Los Angeles, and he was between full-time jobs. As a fun sideline, he signed up as an extra at a casting company. "People think that being on TV is such a big deal, but anybody can do it," Ryan explains. "The money is decent, so I figured why not."
Three days later, someone from the casting company called. The director of "Desperate Housewives" wanted to meet him. "By that time, I wasn't interested because I had found a real job," he remembers. "But I couldn't not go." He and two other guys met the director, took a tour, hung out at a backstage trailer, and had an interview on the set. Ryan wasn't chosen for the part (which he thinks was a paper delivery boy, or something of that nature), but he got paid for his day in the celebrity world.
Ryan isn't sorry that he ended up at Augustana rather than Hollywood. He loves spending time with his wife, playing soccer, and having adventures with his two boys—James, 2, and Willem, 10 months. He is also looking forward to getting more involved at Augustana. "My position in the CVR melds my interests in vocational reflection, student mentoring, administration, teaching, and hopefully someday a little soccer coaching," he says.
By Kim Hedlin '11
Augustana Family News
In honor of Valentine's Day, employees around campus sent very short and sweet accounts of how they met their sweethearts.
Jenni and I met by accident, after we'd both been hornswaggled into volunteering at a community gig. One look at her smile and I was hooked. —Kai Swanson
When I met Owen, he was brushing his teeth, and out of three women in the room, he offered me the only chair. —Margaret Rogal
I met Laura in college as her Orientation leader, but I couldn't work up the nerve to ask her out until my friend cast us as husband and wife in a play (in which I would murder her...). —Stephen Klien
My husband and I met on a blind date; his aunt set us up. We were married on Valentine's Day, 1994. Needless to say, he never forgets our anniversary! —Kelly Atkins
My husband celebrates Valentine's Day like no other—he sends me a valentine a day for a month because he feels one day just isn't enough. —Pamela Druger
I met Luke in Snowball's Political Order class. First date: Frisbee golf in Longview Park followed by Whitey's ice cream. We remain filled with laughter, fun and ice cream. —Meghan Cooley
Mark called, claiming he needed directions to the dining hall, and my name was the only name he recalled from the party! I've never bought that story. —Liesl Fowler
My mom worked at a credit union and told stories of a nice young Navy man who sent her notes with his payments. I tease him for marrying me to be close to my mom. —Lisa Sears
I met Jim sitting on the Carver floor during orientation—now it's 17 years, 2 kids and minivan later. Wouldn't change a thing. Thanks, Augie! —Audrey Adamson
Thirty years ago, Larry was the VP of Audit at our bank, and I was Executive Assistant to the President. Every time Larry met with the President he came a little early...we married a year later. —Lynn Jackson
Seen and Heard
"It's a great opportunity to try different food from different countries that I may never have the chance to go to. How can I go to Nicaragua or Greece? It would be very hard."— Maria Fonseca, dining services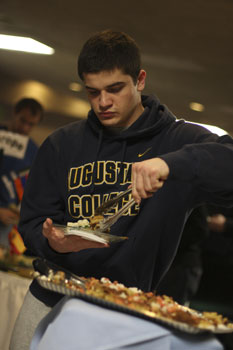 Augustana's 7th annual International Food Fest was held in the College Center on January 31.
Acknowledge is published by the Office of Communication and Marketing. Contact Beth Roberts, editor. Photos in this issue were contributed by Maren Mathisen '12 and Matt Peters '11 of the Augustana Photo Bureau. To see the calendar of upcoming Augustana events, go to www.augustana.edu/calendar.