February 16, 2011
2011 Season - Men's track & field ranked fourth in NCAA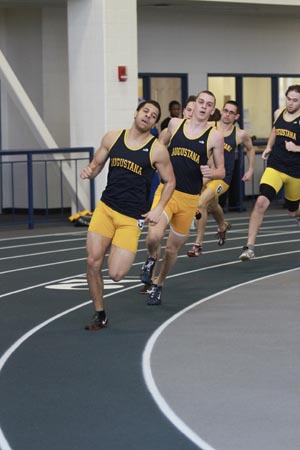 After spending two weeks ranked second in the nation in NCAA Division III, Augustana checks in at the fourth spot on Wednesday, February 16.
After two straight weeks occupying the second spot in the NCAA Division III outdoor power rankings poll, Augustana slipped two notches this week. The Vikings upped their point total to 148.34, from 143.86 a week ago, but fell from second to fourth. The poll is conducted by the U.S. Track & Field and Cross Country Coaches Association.
North Central stayed in first place with 160.22 points while Wisconsin-Whitewater (152.61) moved into second place and Wisconsin-LaCrosse (151.15) took over third. Augustana is fourth with 148.34 while Wisconsin-Eau Claire is fifth with 146.62. The Midwest Region occupies the top five spots and six of the top seven (Wisconsin-Oshkosh is seventh at 144.61) in the poll.
So far this season Augustana has competed in five meets. The Vikings won the Wartburg Invitational on January 29 in Waverly, Iowa and finished fifth at the Warhawk Invitational on February 4. The other three meets were non-scoring affairs.
Augustana will compete in the Dubuque Open on Saturday, February 19 in Dubuque, Iowa.
2011 NCAA DIVISION III OUTDOOR POWER DUAL MEET POWER RANKING
Sponsored by the USTFCCA
As of 02/16/11
POLL #4
| | | | |
| --- | --- | --- | --- |
| RANK | SCHOOL | REGION | POINTS |
| 1. | North Central | Midwest | 160.22 |
| 2. | Wisconsin-Whitewater | Midwest | 152.61 |
| 3. | Wisconsin-LaCrosse | Midwest | 151.15 |
| 4. | Augustana | Midwest | 148.34 |
| 5. | Wisconsin-Eau Claire | Midwest | 146.62 |
| 6. | Williams | New England | 144.98 |
| 7. | Wisconsin-Oshkosh | Midwest | 144.61 |
| 8. | Nebraska Wesleyan | Central | 144.32 |
| 9. | Massachusetts Institute of Technology | New England | 143.91 |
| 10. | Tufts | New England | 142.81 |