February 16, 2011
2010 Season - Bowman wins USTFCCCA academic honor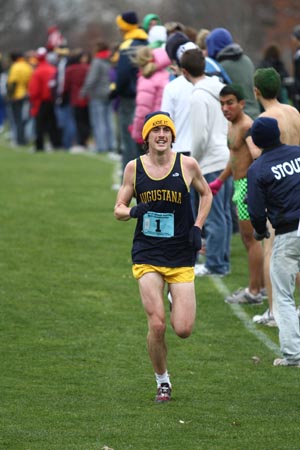 Senior Matt Bowman was selected to the U.S. Track & Field/Cross Country Coaches Association All-Academic team in men's cross country for the 2010 season.
Augustana senior Matt Bowman (Geneva HS, Elburn, Ill.) received another accolade following his superb 2010 cross country season. He was named to the U.S. Track & Field and Cross Country Coaches Association (USTFCCCA) Division III All-Academic team, it was announced today.
In order to qualify for the award, student-athletes must maintain a grade point average of at least 3.30 and finish in the top 35 of a NCCA regional. Bowman was one of just three College Conference of Illinois and Wisconsin (CCIW) runners to receive the award. Anders Hullerberg of Haverford College (Pennsylvania) was honored as the Cross Country Scholar Athlete of the Year in Division III by the organization.
Bowman's honor follows his outstanding cross country season in which he became the first Augustana All-American in cross country since Dave Nellis in 1996. Bowman finished 32nd at the national meet at Wartburg College, covering the rolling course in 24:52. Bowman qualified for the meet by finishing 14th at the tough Midwest Regional, grabbing the second individual qualifying spot. Other superlatives of his season included a second place finish at the Western Illinois Invitational and a ninth place finish at the CCIW conference meet. He was elected team MVP by his teammates at the end of the season.
Bowman, the son of Gary Bowman of Geneva, Illinois, and Linda Bowman of Elburn, Illinois, is an art history major.