February 15, 2011
2011 Season - Softball gets ready for productive 2011 season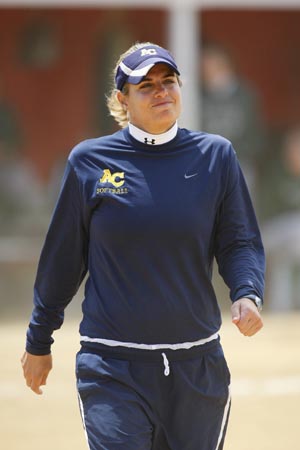 Krist Kistler has forged an impressive 323-156-2 record in her first 11 years as the head softball coach at Augustana. The Vikings were 31-15 a year ago and made the NCAA Division III national tournament for the fourth time since 2004.
One of the first things that jump out when assessing the 2011 Augustana softball prospects is the amount of production missing the 2010 season. Six seniors who were significant in helping the Vikings compile a record of 115-61 between 2007 and 2010, have graduated. While their collective loss will be felt, veteran head coach Kris Kistler is once again optimistic heading into the new season.
She has every reason to be because the Augustana softball program has compiled an enviable record of 323-156-2 overall and 102-52 in the College Conference of Illinois & Wisconsin in the 11 years since Kistler became head coach in time for the 2000 season. The Vikings have made four NCAA Division III tournament appearances (2004, 2006, 2007 and 2010) and have won two CCIW titles and three CCIW tournament championships during that time frame.
"There is no question that we lost an awful lot from last year," said Kistler about her senior class that included such stalwarts as Missy Fobert, Jackie Gill, Karlee Quaritsch, Chrissy Rosin, Brittany Snoreck and Andi Walker. "There are some huge holes to fill but I have really been impressed with the work ethic of this team."
Augustana went 31-15 a year ago and earned an at-large berth in the NCAA Division III national tournament. The Vikings were 8-6 in the CCIW and advanced to the championship game of the conference tournament before losing twice to Illinois Wesleyan. A total of nine letter winners return, including four starting position players and one pitcher.
While filling the gaps left from graduation is a priority, Kistler has been extremely pleased about the leadership her team has received from senior captains Melissa Nelson (West Aurora HS, Aurora, Ill.), Rachel Perry (Illinois Valley Central HS, Chillicothe, Ill.) and Stephanie Sarb (Lisle HS, Lisle, Ill.).
"I can't say enough good things about how our senior leadership group, specifically our captains, has stepped up," said Kistler. "They did a good job in the fall and throughout our off-season conditioning."
The pitching staff shows good versatility, starting with seniors Sheldon Ritzheimer (Wesclin HS, Trenton, Ill.) and Perry. Ritzheimer was 12-5 last year with a 2.47 earned run average and a team high 55 strikeouts in 93 2/3 innings of work. She started 19 times and had three complete games. Perry made 17 appearances and logged 43 1/3 innings while finishing with a 3-1 record and a 3.07 earned run average. Three freshman: Ashley Yaros (Stagg HS, Palos Hills, Ill.), Sarah Hintz (LeRoy HS, LeRoy, Ill.) and Jaime Rehmert (Sterling HS, Sterling, Ill.) will also be given long look. Kistler figures that one of those three will emerge and take a prominent role.
The catching position right now is a battle between sophomore Jenna Nelson (Orion HS, Orion, Ill.), and freshmen Emma Thompson (Riverdale HS, Port Byron, Ill.) and Randi Applehans (Mountain Vista HS, Highland Ranch, Colo.).
At the beginning of the season there appears to be stability at the corners in the infield. Sarb returns at third base and senior Christina Trojanowski (Evergreen Park HS, Evergreen Park, Ill.) is the returnee at first base. Sarb was named to both the all-conference and all-region teams last year when she batted .307 with 42 hits in 127 at-bats with nine doubles, 10 home runs, 32 runs-batted-in and 22 runs scored. She also committed just three errors in 123 chances in the field. Trojanowski hit .341 with 42 hits in 121 at-bats with 20 doubles, three triples, 14 RBI and 20 runs scored.
There is the possibility that Trojanowski could move to right field to replace Dawn Kernich (Mt. Olive HS, Mt. Olive, Ill.), who will miss the 2011 season due to an injury suffered while playing basketball for the Vikings. Jenna Nelson could back up Sarb at third base and the first base candidates will be Thompson, Rehmert and sophomore Dege Abate (Downers Grove South HS, Downers Grove, Ill.).
The middle of the infield will see sophomore Jessica Peterson (Marian Catholic HS, Lansing, Ill.) slide from second base, where she hit .350 as a freshman, to shortstop. Freshman Allyssa Powles (Zion-Benton HS, Wadsworth, Ill.) will probably take over at second base.
Trojanowski could move to right field but senior Emilee Goad (Galesburg HS, Galesburg, Ill.), junior Jillian Gibbs (Rock Island HS, Rock Island, Ill.) and sophomore Rachel Russell (Hinsdale South HS, Willowbrook, Ill.) will be in contention as well. Freshman Lauren Schneiderbauer (Sterling HS, Sterling, Ill.) seems to have the inside track in center field. Melissa Nelson has been a fixture in left field since her freshman year. In 2011 she hit .354 with 52 hits in 147 at-bats while scoring 28 runs. She had eight doubles, three triples, seven home runs and a team-leading 36 runs-batted-in.
"Once again our schedule will be tough," said Kistler, who has been the CCIW's "Coach of the Year" four times in her career. "We will be ready for the challenge and, as always, are looking toward the start of the season."