February 12, 2011
2011 Season - Benning sets school record in weight throw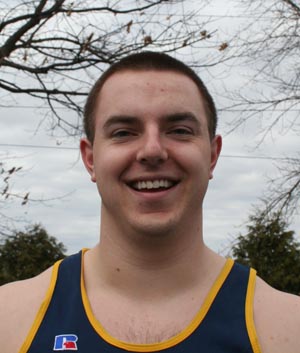 Brian Benning established a new school record when he won the 35 pound weight throw at the Augustana Open on Saturday, February 12. He recorded a toss of 58' 4".
Junior Brian Benning (Winnebago HS, Winnebago, Ill.) threw the 35-pound weight a school-record 58' 4" Saturday to win the event at the Augustana Open. Benning, who was one of eight Augustana winners on the day, broke Darin Decker's mark of 58' 3" set last year.
Other winners for the Vikings Saturday included Mike Tisza (Hersey HS, Prospect Heights, Ill.), who led a one through four sweep in the mile. Tisza ran a 4:21.73, followed by teammates Justin Smith (Fenton HS, Bensenville, Ill.) at 4:22.41, Brian Pollastrini (York HS, Elmhurst, Ill.) at 4:25.16 and Brad Keating (Cary-Grove HS, Cary, Ill.) at 4:27.65.
Billy TenBusch (Prairie Ridge HS, Cary, Ill.) won the 3000 in 8:56.71. Alex Rindone's (Marmion Academy, Geneva, Ill.) :06.62 won the 55 and Greg Patton (Bloomington HS, Bloomington, Ill.) won the 400 in :50.37. Scott Pospisil (Geneva HS, Geneva, Ill.) was a winner in the triple jump, going 41' 6".
Joe Zahn's (Moline HS, Moline, Ill.) 1:57.13 in the 800 led a Viking one through five sweep in the event. Zahn finished ahead of teammates Greg Weigand (Wheaton Warrenville South HS, Wheaton, Ill.), who ran a 1:57.39; Jason Langslet (Mundelein HS, Mundelein, Ill.), who finished in 1:57.56; Chris Madison (Downers Grove South HS, Woodridge, Ill.) at 1:59.08 and Edgar Valle (Kaneland HS, Elburn, Ill.), who was fifth in 2:00.53.
Patton also anchored the Vikings winning 4x400 relay. James Wood (St. Charles North HS, St. Charles, Ill.) led off followed by Matt Somers (Naperville Central HS, Naperville, Ill.), Greg Davis (Carlinville HS, Carlinville, Ill.) and Patton. That group finished in 3:24.14.
Davis was also second in the 55-meter hurdles, running a :07.96, while teammates Brendan Bradley (Mundelein HS, Mundelein, Ill.) and Marty King (Oswego HS, Oswego, Ill.) were third and fifth respectively with times of :08.14 and :08.28. Alex Stake (Williamsville HS, Sherman, Ill.) took second in the pole vault, clearing 14' 2". Andrew Nice (Christian Life HS, Caledonia, Ill.), Colton Vankirk (Rochelle HS, Rochelle, Ill.) and Erik Hansen (Geneva HS, Geneva, Ill.) finished third through fifth. Nice and Vankirk also vaulted 14' 2" while Hansen cleared 13' 8".
Nick Sinon (Kaneland HS, Elburn, Ill.) was second in the high jump with a leap of 6' 6 ¼" and Justin Davidson (Galesburg HS, Galesburg, Ill.) went 6' ½" to take fifth. Davidson was also fourth in the triple jump, going 40' ½". Phil Christensen (Kaneland HS, Maple Park, Ill.) was second to Benning in the weight throw with a toss of 51' 0" and Adam Myers (Dixon HS, Dixon, Ill.) was fourth with a 47' 10" throw. Dane Burmeister (Crystal Lake Central HS, Crystal Lake, Ill.) ran a second-place :38.52 in the 300.
A pair of Viking relay teams also captured second place finishes. The 4x800 unit of Alex Stockwell (Glenbard West HS, Glen Ellyn, Ill.), Aaron Trost (Bishop McNamara HS, Kankakee, Ill.), Kevin Gray (Batavia HS, Batavia, Ill.) and Jacob Adams (Stagg HS, Palos Heights, Ill.) finished in 9:03.45 and the 4x200 relay of Devon Pace (Byron HS, Byron, Ill.), Jay Graffagna (Geneva HS, LaFox, Ill.), Jacob O'Rourke (Assumption HS, Bettendorf, Iowa) and Jesse Alexander (Cedar Falls HS, Cedar Falls, Iowa) ran a 1:33.50.
Benning's 45' 1½" was good for third in the shot, just ahead of teammates Kevin Macek (Sandburg HS, Orland Park, Ill.) and Christensen, who were fourth and fifth, respectively, with throws of 44' 3½" and 43' 10¾". Kyle McNicholas (Sandburg HS, Orland Park, Ill.) took third in the 3000 with an 8:59.43 clocking.
Trevor Raupp (Warren Township, Wadsworth, Ill.) (19' ¾") and Brett Becker (Cuba City HS, Cuba City, Wis.) (19' ½") were fourth and fifth in the long jump and Eric Erspamer (Bartlett HS, Bartlett, Ill.) was fifth in the 1000, finishing in 2:57.13.
The Vikings will be back in action on Thursday, February 17, hosting a dual meet against St. Ambrose at 5:00 p.m. On Saturday, February 19, they'll head North to compete in the Dubuque Open. Starting time is scheduled for 1:00 p.m.