February 12, 2011
2010-11 Season - Vikings clinch at least a share of CCIW title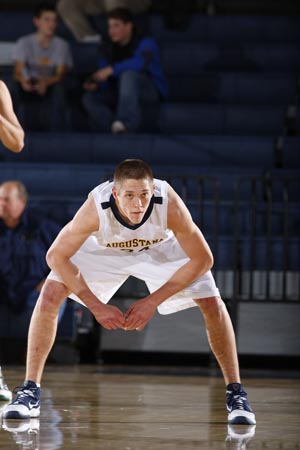 Bryant Voiles scored 12 points and all four baskets came from three point range as fifth ranked Augustana moved to 22-1 with a 71-51 victory at Millikin on Saturday evening.
DECATUR, Ill. - Augustana, ranked fifth in the latest NCAA Division III national poll, moved its record to 22-1 on Saturday, February 12 with a 71-51 victory over Millikin in Decatur, Illinois. The win, which moved the Vikings to 11-1 in the CCIW, combined with Saturday losses by closest pursuers North Central and Illinois Wesleyan, earned Augustana at least a share of the league's regular season title.
Millikin three-pointers by Jacob Shasteen and Kelvin Jacobs gave the Big Blue brief one-point leads early in the first half, but a Luke Scarlata (Morton HS, Berwyn, Ill.) tip-in six minutes in put the Vikings up for good at 9-8. The lead grew steadily the rest of the half and reached 12 on three occasions; the final being at 34-22 on a pair of George Dexter (Bettendorf HS, Bettendorf, Iowa) free throws with 1:39 left. That was how the half would end.
The Big Blue narrowed the gap to six twice early in the second half, cutting it to 36-30 on a Jacobs jumper and 38-32 on a pair of Justin Thompson free throws. However, a Bryant Voiles (Byron HS, Byron, Ill.) three-pointer with 15 minutes left made it 44-32 Augustana and Millikin wouldn't get the margin under double digits again.
The lead reached 20 (54-34) on a Dexter jumper in the lane with 10 minutes left and a Mike Avallone (Neuqua Valley HS, Naperville, Ill.) three with 23 seconds left equaled the biggest lead and accounted for the final score of 71-51.
Kyle Nelson (Deerfield HS, Deerfield, Ill.) scored 20 points and Voiles tossed in 12 to lead Augustana. Nelson connected on seven of 10 shots from the field and added six free throws to make him the game's leading scorer. He also hauled in a game-high seven rebounds. Voiles was four of seven from the floor and all his attempts were from three point range.
The Vikings shot .510 (25-49) from the field, including .429 (nine of 21) from three point range. Augustana also enjoyed a huge 32-19 advantage in rebounding, including 12 offensive boards.
Millikin, now 1-20 overall and 0-11 in the CCIW, got 15 points from Nikko Robertson.
Augustana will play at North Central on Saturday, February 19.