February 12, 2011
2010-11 Season - Skeens' late bucket keys victory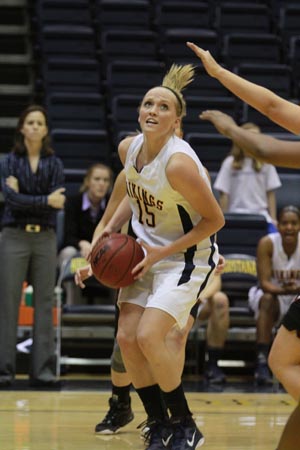 Brianna Skeens scoring the winning basket, with three seconds left as Augustana defeated Millikin 65-64 in CCIW action on Saturday afternoon in Decatur, Illinois.
DECATUR, Ill. - Junior Brianna Skeens (Vernon Hills HS, Vernon Hills, Ill.) didn't score much in Augustana's 65-64 victory at Millikin on Saturday, Febreuary 12. She totaled just six points in the game but her basket with just three seconds left on the clock provided the winning margin for the Vikings in College Conference of Illinois & Wisconsin action.
Skeens nailed her game-winner just 15 seconds after Julia Robert's basket had given Millikin a 64-63 lead with :18 left in the game. Robert was answering a pair of free throws from the Vikings' Whitney Miller (Clinton HS, Clinton, Iowa) that pushed Augustana in front 63-62 with :25 remaining.
The ending was wild as the Vikings led 61-59 with 1:20 to play when Molly Etheridge (Normal Community HS, Bloomington, Ill.) sank one of two free throws. Millikin tied the game at 1:18 on a pair of charity tosses from Elise Wildman. That made it 61-61. A single free throw by the Big Blue's Olya Cholewick at :48 gave Millikin a 62-61 advantage.
In all, there were four lead changes in the final minute of play.
The scoring in the afternoon affair began when Etheridge knocked down a three point field goal to give Augustana an early 3-0 advantage, but the Big Blue quickly tied the contest and led for the rest of the first stanza. Millikin was up by nine points on two occasions late in the first half before taking a six point lead to intermission.
Augustana trailed 23-17 at halftime and took the lead (26-25) on a three point basket by Etheridge less than two minutes (18:01) into the second half. The teams traded the lead back and forth with neither team leading by more than five points the rest of the way.
Millikin led by three (57-54) with 5:05 to play before a pair of made free throws from Skeens and a three point bucket from senior Kristen Fox (Ottawa HS, Ottawa, Ill.) gave the Vikings a two point edge (59-57) with 2:17 to play, setting the stage for the thrilling finish.
Etheridge led Augustana in scoring with 13 points while Kristen Fox was also in double figures with 12 points. Millikin got 18 points from Wildman.
Augustana is now 6-17 overall and 2-10 in the CCIW while Millikin is 15-7 and 7-4.