February 11, 2011
2011 Season - Women's track & field ranked 18th in NCAA III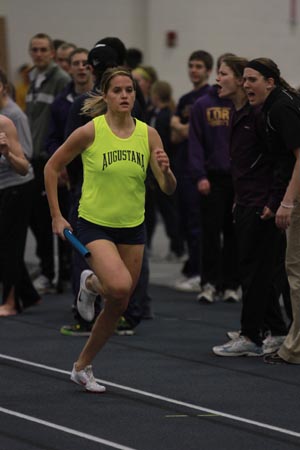 Amy Walsh and the Augustana Vikings are currently ranked 18th in the latest NCAA Division III indoor track & field power rankings.
The Augustana women's track & field team made its first appearance in the NCAA Division III dual meet power rankings for the 2011 season. Veteran head coach Fred Whiteside's team is 18th in the third ranking of the year.
The Vikings totaled 111.90 points in the ranking, which is sponsored by the US Track & Field and Cross Country Association and it encompasses the top two performances by each team in every event.
North Central is currently ranked first in NCAA Division III with 140.90 points. Augustana is just .07 points behind Moravian (111.99) in 17th place.
So far this season the Vikings have competed in a total of four meets. The season started with the Dubuque Invitational on January 15 and no team scores were kept. Augustana was third in the Midwest Invitational on January 22 in Monmouth, Illinois and placed second in the Luther Trianugular on January 29 in Waverly, Iowa. Last week, at the Wisconsin-Whitewater Invitational they were sixth.
The Vikings will host the Augustana Open on February 12 at the PepsiCo Center.
2011 NCAA DIVISION III WOMEN'S TRACK & FIELD DUAL MEET POWER RANKINGS
US Track & Field/Cross Country Coaches Association
February 9, 2011 – Ranking #3

1 – North Central 140.90
2 – Tufts 140.80
3 – Ithaca 138.89
4 – Williams 137.68
5 – Massachusetts Institute of Technology 136.93
6 – Wartburg 135.66
7 – Wisconsin-Oshkosh 135.56
8 – Wisconsin-Eau Claire 132.75
9 – Monmouth 129.47
10 – Southern Maine 127.91
11 – Illinois Wesleyan 124.80
12 – Wisconsin-Stevens Point 120.58
13 – Ohio Wesleyan 120.49
14 – Concordia (Minn.) 117.02
15 – Nebraska Wesleyan 114.79
16 – Lynchburg 113.74
17 – Moravian 111.90
18 – AUGUSTANA 111.92
19 – Baldwin-Wallace 110.47
20 – College of New Jersey 109.31
21 – Emory 109.23
22 – Washington 107.83
23 – Colby 106.91
24 – Rochester 105.71
25 – Calvin 104.45