February 11, 2011
2010-11 Season - Scholten & Graham win CCIW titles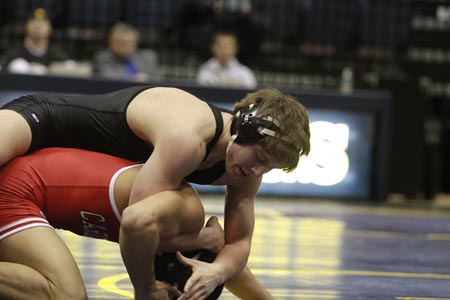 Freshman Jordan Graham won the CCIW title at 165 pounds with a 6-1 victory over Jason Bonham of North Central. Graham and fellow freshman Jacob Scholten became Augustana's first individual conference champions since the 2006 CCIW tournament.
ELMHURST, Ill. - Two Augustana freshmen won individual titles at the College Conference of Illinois & Wisconsin wrestling tournament on Thursday, February 10 at Elmhurst College in Elmhurst, Illinois. Jacob Scholten (Rockford HS, Grandville, Mich.) won the 125 pound weight class and Jordan Graham (Big Rapids HS, Fremont, Mich.) grabbed the 165 pound crown.
Augustana scored 63.5 points to finish in third place in the team standings. Elmhurst won the tournament with 91 points while North Central was a close second with 89. Wheaton was a distant fourth with 20. The 63.5 points is the highest point total for the Vikings in the CCIW meet since 2006 when they scored 74.5.
The Vikings had four finalists in the championship round with junior Alberto Quiros (Morton East HS, Cicero, Ill.) taking second at 141 pounds and senior Tim Day (Wheaton-Warrenville South HS, Wheaton, Ill.) placing second at 285.
The titles by Scholten and Graham are significant because it marks the first time since 2006 that Augustana has crowned an individual conference champion. Scholten, the number one seed at 125, had a bye in the first round and then beat Tom Laskowske of Elmhurst in the championship match by a score of 11-1. Scholten is now 35-6 on the season. Graham was also the number one seed at 165 pounds and he won two matches on the way to the title. He beat Cameron Fox of Wheaton on a technical fall in the semi-finals and then handled Jason Bonham of North Central in the championship by a score of 6-1. Graham is now 29-12 this year.
Quiros was the third seed at 141 pounds and he beat second seeded Larry Baca of Elmhurst 6-5 in the semi-finals before falling to top seeded Andrew Zobac of North Central 10-5 in the championship match. Quiros is 31-7 this year. Day was the second seed at 285 and beat third seeded Valente Garza of North Central 7-3 in the semi-finals. He was pinned by top seed Mark Corsello of Elmhurst in the final at 2:05.
Greg Gogonas (Bowie HS, Austin, Texas) at 133, Steve Poffenberger (Allegan HS, Paw Paw, Mich.) at 149, Alex Vavra (Gull Lake HS, Dowling, Mich.) at 174 and Hunter Feraco (Gull Lake HS, Battle Creek, Mich.) at 197 all earned third place finishes.
Augustana will be in action next on February 26 at the NCAA Great Lakes Regional at Lakeland College in Sheboygan, Wisconsin.