Five Questions for: Sara Tisdale
February  10, 2011
Five Questions is a series of profiles of people at Augustana College. Sara Tisdale, women's lacrosse coach, gives the answers today. If you know someone you'd like to see profiled, send his or her name and a note to sharenews@augustana.edu.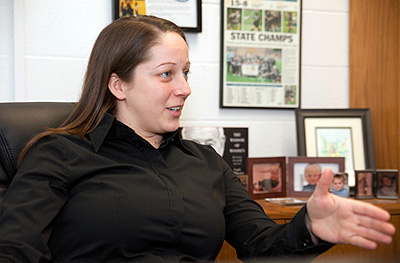 Lacrosse coach Sara Tisdale. (Augustana Photo Bureau/Marla Alvarado Neuerburg)
1. What was it about the sport of lacrosse that attracted you as an athlete?
"Lacrosse combined the best competitive elements from the sports I loved as a kid. The sport was also brand-new in Michigan, and I liked the idea of a new athletic challenge. My high school coach was a man who many refer to as the godfather of lacrosse in Michigan, Bill Prahler. Bill's passion for the game was infectious and I guess I got the bug."
2. You also referee NCAA and NAIA basketball games. How has this experience made you a better coach?
"Officiating basketball games has made me more patient as a coach. Referees have to put up with a lot of adversity and must maintain their cool in some pretty tense situations. I understand those pressures and as a coach, I think I know how to get the most out of the in-game relationship with officials.'
3. Last year you organized a prep lacrosse tournament at Augustana that drew quite a few teams. What does the success of your event say about the state of the sport?
"High school lacrosse programs are still pretty scattered in the Midwest, so some very good prep players struggle to find meaningful competition and opportunities for recruiting exposure with college coaches. I think our event is a great one because we offer great competition, recruiting exposure and the opportunity for prep players to get an up-close look at life as a student athlete."
4. When you are not organizing events, recruiting or coaching, what do you like to do?
"I love travel and the outdoors. My newest passion is wake surfing. It's kind of like traditional surfing, but at a much higher speed."
5. What do you tell recruits about the program you are building at Augustana?
"I'm looking for players who share my interest in new athletic challenges. I want players who want to work with me to build this program from the ground up. We are two years out from competing, but we are already in a great place with the program. The new lacrosse field we will be building adjacent to the PepsiCo Recreation Center will be one of the best in the Midwest. In the Midwest, only Notre Dame and Northwestern can offer comparable facilities to the one we are building."