3-D imaging helps students learn anatomy
February  10, 2011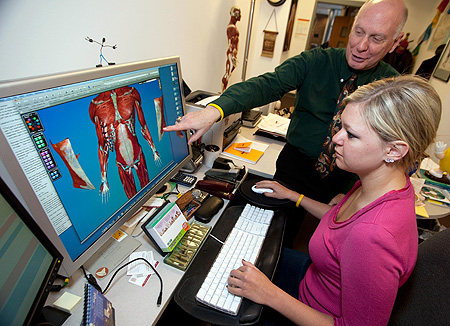 Biology/pre-dentistry major Bailey Eilering '13 and Dr. Bob Tallitsch review a 3-D Cyber-Anatomy™ image. (Augustana Photo Bureau/Marla Alvarado-Neuerburg)
Preliminary results of 3-year study show
they gain better ability to analyze
In 2009, Augustana biology professors Bob Tallitsch and Allison Beck embarked on a three-year investigative journey into the world of 3-D imaging and the teaching of human anatomy, thanks to a $150,000 grant.
Students typically use textbooks and anatomical models to learn the required information in a college-level human anatomy or anatomy/physiology course.
Dr. Tallitsch and Dr. Beck, along with two colleagues at St. Ambrose University, are exploring whether computer-assisted instruction can influence how a student learns the concepts and 3-D relationships inherent to understanding the anatomy of the human body.
The National Science Foundation (NSF) grant currently is in its second year. The first year was the control year, in which students at Augustana and St. Ambrose were taught their courses in the usual manner, without the benefit of any computer-assisted instruction. During this academic year, instructors at both institutions are teaching their course and using Cyber-AnatomyTM as an integral part of their laboratory exercises.
Although the data is preliminary, the information collected so far indicates that using Cyber-AnatomyTM significantly increases students' ability to analyze 3-D relationships, Dr. Tallitsch reported. In addition, the data demonstrates a trend toward increasing student interest in the classes in which Cyber-AnatomyTM is used in the laboratory.
"This is exactly what we were hoping for," Dr. Tallitsch said. "Understanding and being able to interpret 3-D relationships is essential to understanding anatomy, and when we found out that Cyber-AnatomyTM increased students' ability to do this, we were elated."
Further analysis will be conducted to determine whether the software helps students retain information taught in the classes.
Dr. Beck is equally excited about the preliminary results but pointed out that computer-assisted instruction will not replace Augustana's hands-on cadaver-based instruction that is typical of medical schools; Augustana continues to be one of only a few colleges and universities that give undergraduates the opportunity to dissect human cadavers.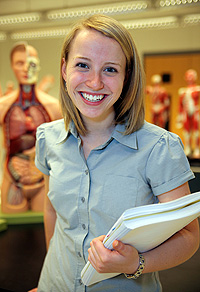 Biology's Dr. Bob Tallitsch says the work of student researcher Jaynee Krippel '11 was essential to the success of the NSF-funded project to date.
Other key Augustana players in the Cyber-AnatomyTM investigation are psychology's Dr. Shirley Fenwick (statistical analysis) and sociology's Dr. Paul Croll (survey construction and analysis), along with biology/pre-med major Jaynee Krippel '11. As the grant-funded student researcher, Krippel was charged with creating lab manuals to supplement the human anatomy curricula at both Augustana and St. Ambrose.
"We couldn't be where we are with regards to progress and data collection without Jaynee's work," Dr. Tallitsch says. "Her input was essential to the success of the grant thus far."
The part of the research experience Krippel values most is the knowledge base she's gained from working with the software. "I was not given specific instructions as to how to navigate through the program-that was my job. So, to create these lab manuals demanded a strong understanding in this content area."
She added that "any medical school will probably tell you that human anatomy is one of the most demanding, intensive courses in the curriculum, so to already be able to walk in with a strong foundation of the human anatomy will be greatly beneficial in my first year in medical school."
In late January, Dr. Tallitsch traveled to Washington, D.C., at the invitation of the National Science Foundation to discuss his investigation's preliminary results and possible plans for expansion of the work.