The connection between football and theatre
'In both ... you have to be unified and count on the person next to you,' says All-American Mago
February  10, 2011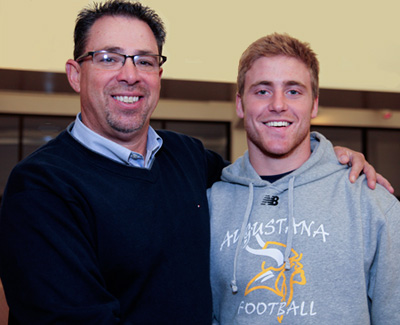 Augustana senior Johnny Mago with football coach Rob Cushman.
He certainly didn't plan it this way but Augustana senior Johnny Mago may be the poster-child for liberal arts education. When he entered Augustana in the fall of 2007 he was hoping to be a contributor on the Vikings' football team and major in business with an emphasis on environmental studies.
A lot can change in four years, however, and Mago recently reflected on that.
Football went the way he had hoped. He became an immediate contributor and eventually worked his way into the starting lineup. By the time he was a senior, he led the team with 114 total tackles, was named first all-conference in the College Conference of Illinois & Wisconsin, and served as team captain. He was selected to play for Team Stars & Stripes in the annual Tazon de Estrellas (Bowl of the Stars) in Monterrey, Mexico. He was named to the NCAA Division III all-North Region team by D3football.com and capped his career by earning first team ESPN Academic All-American honors.
Clearly he had made an impact on the Augustana football program.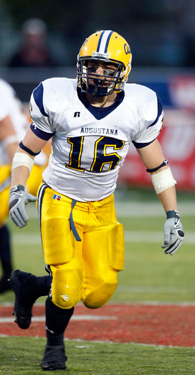 "I want young people to know that they don't have to have just one dream — they can have multiple dreams. I certainly appreciate the opportunity I was given."
The creative side
But in his life away from the football field he found that avenues were opening that he hadn't expected. An acting class he took as a freshman made an impact.
"It was sort of fun," said Mago. "I went into it thinking that it would be just a class to fulfill some graduation requirements but I ended up seeing the creative side in me come out. I was sort of intrigued."
That led to a decision his sophomore year to enroll in an Introduction to Theatre class taught by Scott Irelan. From there, things "just sort of snowballed" and pretty soon Mago was veering away from the business major and heading a different direction.
"I just kept taking theatre classes because I really enjoyed each one and pretty soon I had passed the point of no-return," he said. "I knew I wanted to double major and I had an interest in journalism so all of a sudden I was a journalism and theatre arts major."
He acknowledges that it is certainly not the stereotypical path for a football player but he sees some similarities between theatre and athletics.
"When I started working on plays it made me realize that there is a lot of teamwork involved in putting on a production, not unlike the teamwork that goes into making a football program successful," he commented. "In both football and the theatre you have to be unified and count on the person next to you to do his or her job. The director is like a coach and the stage manager is like the team captain. It all made perfect sense to me."
Mago also noted that there are some distinct differences as well. "In football, you build toward a whole season, which is 10 weeks long with one game at the end of each week," he noted. "While you try to be playing your best at the end of the season in football, the emphasis on theatre is opening night. You have one real shot at showing that all the work and preparation was worth it."
Having more than one dream
Mago has been productive in whatever he has attempted at Augustana. He has a 3.78 grade-point average and has been on the Dean's List every term. He won a prize for documentary photography at the annual Augustana Fourth Estate Awards Ceremony in the spring of 2009. An active member of Athletes Giving Back, an organization devoted to community outreach by the athletic department, Mago also volunteers at Church of Peace in Rock Island where he teaches immigrant children the English language.
He was the 135th Augustana student-athlete to win Academic All-American honors since the program began by College Sports Information Directors of America in 1952. Augustana currently ranks sixth in the nation (all divisions) in the number of Academic All-Americans produced and the Viking football program has generated a total of 25 of those.
"I am honored to be part of such a tradition as our Academic All-American success," Mago said. "I am aware of all the great ones who have gone ahead of me and it is an impressive group."
He recently was called on to speak to a group of prospective student-athletes who were on campus for a combined admissions/athletic department event targeted at future Academic All-Americans. He spoke about the ability to be able to follow different paths and how he was supported at every turn.
"I just tried to speak from the heart," he said as he critiqued his own speech. "I want young people to know that they don't have to have just one dream — they can have multiple dreams. I certainly appreciate the opportunity I was given. I knew I was going to play football at Augustana but I never would have guessed that theatre would be a part of my life. I am glad that I decided to go down that path."
His ideal future will hold some sort of a combination between coaching and film editing. That is a unique mix but one for which Mago feels he is well prepared.
"I am going to coach at some point in my life, no question about that," he said. "I would like to get involved in film editing because I feel that I have some creative talent and I need to be able to use that creativity."